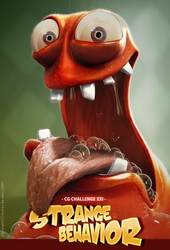 The unexpected can delight or shock. It can be exciting or frightening. It's often funny. It's never boring!
Adelaide, South Australia (PRWEB) December 21, 2007
The CGSociety is proud to present the winners of our 21st CGChallenge -- 'Strange Behavior'. The topic for this challenge was described as: 'Strange Behavior' -- "The unexpected can delight or shock. It can be exciting or frightening. It's often funny. It's never boring!" The global CG community responded with enthusiasm and have generated some of the most imaginative and entertaining work we have ever seen.
"The CGChallenges have always been the largest competitions of their kind in the world," said Mark Snoswell, President of the CGSociety. "We dramatically expanded the scope and prize pool in the Strange Behavior challenge with over US$90,000 in prizes for 15 winning entries in 12 categories."
In this challenge Animation and Short Film were added to Illustration as major categories with Master and Excellence awards in each. An additional 9 special categories were also introduced to recognize a wide range of skills: Modeling, Texturing, Lighting, Visual Effects, Art Direction, Cinematography, Matte Painting, Compositing & Editing and Screen Play adaption.
The Winners:
Animation Master: "Spaced Out"
by Martin Sen
Animation Excellence: "Polkarella"
by Zubuyer Kaolin
Illustration Master: "5 o`clock, somewhere at the orcish border"
by Mathias Kollros
Illustration Excellence: "Carrot Run"
by Bobby Chiu
Short Film Master: "Atoms and Pixels"
by Taino Soba, Adrian Zamora, Michael Vafeas, Meng-Han Ho
Short Film Excellence: "Vacant"
by Jacob Luamanuvae, Stephen Richard Hutt, Bryce Fredrik Johansen, Tim Gilmore, Grant Stephen Percival, Daniel Patrick Meighan, Mathew Luke de Ruiter, Rebecca Cole, Kieran Rea Thawley, Robert John Gordon, Jack Tema, Daniel Gregory Nunns, Aidan Gillies, Ka Ho Wong, Alexia Gonzalez, Daniel Lynch, Darwin Go
Best Cinematography: "Atoms and Pixels"
Michael Vafeas
Best Visual Effects: "Atoms and Pixels"
Meng-Han Ho
Best Texturing: "Pursuit of Perfection"
Jesse Sandifer
Best Lighting: "Devils Jackpot"
Dariusz Sebastian Burdon
Best Compositing/editing: "A New Evolution"
Adrian Baluta
Best Art Direction: "The Cat"
Anna Celarek
Best Screen Plan Adaption: "Vacant"
Jacob Luamanuvae
Best Modeling: "Mister Shity the Wonderlover"
Jürgen Johannes Jäckel
Best Matte Painting: "Strange Ambition"
Matt Ellis
The Strange Behavior Challenge was sponsored by BOXX Technologies, NVIDIA, Autodesk, Softimage, Pixologic, Luxology, e-on Software, Maxon, REALVIZ, Corel, Stash, Gnomon Workshop, MudBox, and Ballistic Publishing.
For additional details and information on the rules, please go to Strange Behavior
About the CG Society:
The CG Society is the most respected and accessible global organization for creative digital artists. The CGSociety supports artists at every level by offering a range of services to connect, inform, educate and promote, by celebrating achievement, excellence and innovation in all aspects of digital art. The CGSociety, along with its sister organisation Ballistic Publishing, is a division of Ballistic Media.
Ballistic Publishing is an independent publisher of books for the digital arts industry. The company established in 2003 is dedicated to producing high quality publications celebrating the talents of digital artists worldwide. For more information, visit CGSociety and Ballistic Publishing
###