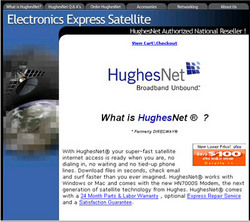 We are committed to making sure our customers are well-informed about our equipment and service options before they place an order
Surry, ME (PRWEB) December 20, 2007
Satellite Internet service providers Electronics Express Satellite - HughesNet Authorized National Reseller announce a new goal: to make broadband internet service available to all at an affordable price through aggressive promotional offers. Available everywhere, even where cable internet and DSL services cannot reach, HughesNet's suite of connectivity solutions has made the company America's top choice for broadband Internet by satellite, available in areas previously only serviced by dial-up.
HughesNet is a subsidiary of Hughes Network Systems, LLC, a global leader in providing broadband Internet by satellite for large enterprises, governments, small businesses, and consumers. Hughes offers complete turnkey solutions, including program management, installation, training, maintenance and support. The company's Network Operations Centers monitor customer networks twenty-four hours a day, seven days a week.
"We are committed to making sure our customers are well-informed about our equipment and service options before they place an order," said Donald J. Hilts, President and CEO of Electronics Express Satellite. "We want to make sure they get the plan that is right for them." To that end, the company offers five different levels of internet by satellite service to suit various residential and commercial needs. These levels make the choices easy for home, small office, business, or government agency needs, with download speeds ranging from 728 kbps to 2.5 Mbps. Services are compatible with both PC and Mac systems.
Hughes also offers shared hub services throughout the United States, Brazil, China, Europe and India. These hubs give businesses more options to realize the benefits of working with satellite Internet service providers without having to build and operate their own dedicated hubs.
Hilts added, "Our quality policy is to set the standard for excellence in our industry, earn the respect of our customers and suppliers throughout the world, and satisfy customers by meeting their needs and exceeding their expectations." The company provides an extensive field operations organization that provides reliable, responsive service to all customers in the United States and around the world.
To learn more about HughesNet, the globe's premier satellite internet service providers, shared hub capabilities, broadband equipment or installation for home or business, or for ever-changing special offers, visit Satellite-Internet.tv.
About Electronics Express Satellite - HughesNet National Sales:
Headquartered in Ellsworth, Maine Electronics Express Satellite began offering DIRECTV in 1993, the original Hughes DIRECPC satellite Internet system in 1998 which has since evolved to DIRECWAY and now HughesNet. With thousands of installed systems from coast to coast, Electroncs Express Satellite has the knowledge and experience to help bridge the digital divide. Customers include corporate and commercial clients, government agencies from local, state and federal levels, home-office teleworkers and residential customers throughout the continental United States.
###