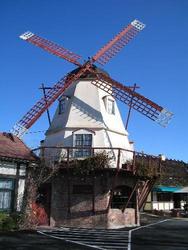 If the thrill of caroling and present-wrapping has worn off, VirtualTourist.com members suggest these off-beat activities for a less-than-traditional holiday
Los Angeles, CA (PRWEB) December 20, 2007
VirtualTourist.com, one of the largest online travel research sites and travel communities in the world, announces the top 10 quirkiest places to spend Christmas (http://www.virtualtourist.com), according to traveler recommendations and editorial research. "If the thrill of caroling and present-wrapping has worn off, VirtualTourist.com members suggest these off-beat activities for a less-than-traditional holiday"
1) Kringle Pastry; Racine, Wisconsin: If all this holiday munching is putting your sweet tooth on overdrive, head out to Racine, Wisconsin for some Kringle. This hyper-sweet, "O"-shaped pastry help put Racine on the map and can be found in any number of bakeries around town. Just follow the scent of melted frosting!
2) Santa Claus, Indiana: Yes, there is a Santa Claus and it's in Indiana. St. Nick's namesake town plays it to the hilt with a "Santa's Candy Castle" and twenty-two foot high statue of the man himself. Parents who are wondering where to send those letters to Santa can rejoice; the town post office anticipates the deluge each year and even has a special post mark to commemorate the holiday.
3) Candy Cane Lane; Ravenna, Washington: Around Christmas, the residents of this small town take keeping up with the Joneses to a different level. Since the 1940s, this neighborhood has festooned its homes with hundreds of thousands of lights, bangles, and baubles in an effort to show holiday spirit.
4) Rudolph Valentino's Memorial Marker, Hollywood Forever Cemetery; Hollywood, California: This other Rudolph was the Brad Pitt of his day; causing commotion and gossip wherever he went. When he died at age 31, the whole country practically went into mourning. Be sure to also check out his star on the Hollywood Walk of Fame.
5) Real Reindeer; Anchorage, Alaska: Ever wonder where Dasher and Dancer and the rest of them hang out in the off-season? Now you know! Although they can be found in the wild, for those slightly less-adventurous travelers, a trip to the Alaska Zoo in Anchorage is a perfect, safe viewing spot.
6) Hostel Elf; Prague, Czech Republic: With no curfew and a fridge full of cold beer this place is every broke traveler's dream. Clean and whimsically decorated, the Hostel Elf is among Europe's most popular hostels.
7) Sleigh Ride; Park City, Utah: For those who think Park City is all about ski bunnies and sitting by the fire, think again. The town is chock full of companies that will take you on a genuine sleigh ride; some with extras like dinner and entertainment.
8) Gingerbread Factory; Leavenworth, Washington: Everyone in Leavenworth will tell you this is the place to go if you have a sweet tooth. Not surprisingly, in the months before Christmas they are up to their red hats in orders for gingerbread houses. Take your time exploring this historic, breathtakingly beautiful town, created to look like an authentic Bavarian village. For those really obsessed with the holiday, be sure not to miss Leavenworth's Nutcracker Museum!
9) The Frosty Mug; Mount Dora, Florida: The kind of place where you can walk in a stranger and walk out a friend, this lively, well-known pub sits just north of Orlando, but feels more like it's nestled in the valley of some great European ski village. Don't miss the picture book-pretty town of Mount Dora for some pre-happy hour strolling.
10) Winterfest; Solvang, California: Anyone who's ever been to Solvang will tell you that this is not a town that does things half-way and their Winterfest celebration, which goes on until Christmas, is proof of that. Complete with a visit from Santa, this incredible Danish enclave goes all-out at this time of year.
About VirtualTourist.com
VirtualTourist.com is one of the largest online travel communities in the world and a premier resource for travelers seeking an insider perspective on travel information, from Las Vegas hotels to New York City restaurants. At http://www.virtualtourist.com, real people share real advice on places they've traveled as well as their hometowns; they research and plan trips, and they interact with other avid travelers via travel forums and email; over six million travelers use the site monthly. VirtualTourist boasts more than 1.5 million travel reviews and 3 million photos on more than 25,000 destinations worldwide. Unbiased, user-generated content on Hotels, Attractions, Local Customs, Tourist Traps and much more is posted entirely by VirtualTourist's more than 960,000 registered members from over 220 countries and territories, and the site's Trip Planner feature allows users to create custom print-and-go travel guides. Among VirtualTourist's awards and accolades: 'Sites that Changed Our World,' The Guardian; 'Favorite Website,' Newsweek; '35 Best Travel Sites,' Travel Leisure.
# # #