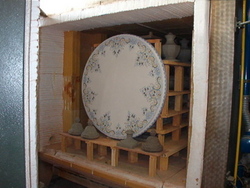 We use one at home as a kitchen island
Alpine, CA (PRWEB) December 20, 2007
Two new large "one-piece" ceramic tables are now available at Taste of Florence: a 76" x 50" oval and a 72" x 36" rectangular with oval ends. Now almost all their tables, including the largest sizes, are produced in one single ceramic piece and therefore have no grout lines or joints, a feature that obviously enhances the beauty of the design and the overall enjoyment of these works of art.
The making of such large ceramic tables is now possible thanks to the new room-size kilns put in place in 2007 and by an even finer selection of raw clays. The lower level of impurities in the clays make it so that these huge and heavy pieces (over 250 lbs) can complete the 24 hours of firing at temperatures exceeding 1000C without cracking under the tremendous stress. This firing process makes it possible to guarantee the tables to withstand temperatures as low as -22F and as high as 500F.
"We had a lot of inquires about large oval sizes and these new offerings should fill a void in our lineup that now includes 20 sizes," said Paolo Landini, native of Florence (Italy) owner and founder of Taste of Florence. "These will be just as challenging to ship and deliver to the customers as the 70" round, but our system of crating, palletizing and consolidating in containers has worked so well that we are closing 2007 without a single broken table. We expect to keep this level of excellence throughout 2008."
The tables are entirely handcrafted in Florence (Italy) by a workshop that has been working closely with Mr. Landini for more than a decade. They are available in 55 striking designs full of life and Mediterranean atmosphere. All the designs are available in all the sizes, from coffee tables to dining tables for 10 or more people. Each table is made to order, meticulously hand-decorated with majolica glazes and fired twice, once before and once after decoration.
What makes these ceramic tables popular, besides the fantastic designs, is that they are virtually maintenance free and resistant to the most common incidents that may involve a tabletop. They do not scratch under a knife blade, spilled food or drinks cannot stain them and there is no need for trivets or potholders as any boiling pot or pan can be placed directly over the table surface. "We use one at home as a kitchen island," said Paolo Landini. "My wife kneads bread and all kind of stuff on it. All you need to do is clean it with a sponge and any detergent, you can even use bleach on it."
For additional information or to see all the designs visit Taste of Florence. Some tables may be available for immediate delivery; production of custom sizes and creation of custom design is possible on a case-by-case basis.
About Taste of Florence:
Taste of Florence was founded in 1996 by Paolo Landini and is a family owned business based in Alpine, California. Mr. Landini resided in Florence until the age of 32, established his network of artists and craftsmen from Florence, Deruta and other areas in Tuscany and Umbria while still living in Italy and only imports products manufactured by them directly
Contact:
Paolo Landini
Taste of Florence
(877) 788-0884
Fax (619) 659-1370
# # #