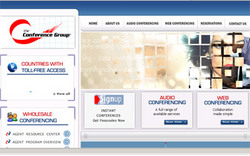 PHONE+ is honored to bestow special recognition upon these standouts. Their support for the indirect channel, and gains in the telecom industry overall, are much appreciated and lauded
Newark, DE (PRWEB) December 20, 2007
PHONE+ Magazine is pleased to announce that teleconferencing company The Conference Group has been selected as one of its Top 50 Channel Programs. The results of this contest are published in the magazine's first-ever Channel Program Guide special issue, available now at Phoneplusmag.com/ebooks.
The Conference Group was selected from hundreds of companies submitting their channel program details. Voted on by indirect sales partners, the winners represent communications suppliers - carriers, resellers, master agents, and manufacturers - who provide their agents with extra attention, rapid quotes, sales training or special promotions.
"PHONE+ is honored to bestow special recognition upon these standouts. Their support for the indirect channel, and gains in the telecom industry overall, are much appreciated and lauded," said Mike Saxby, group publisher for PHONE+, about the teleconferencing company.
In addition to receiving this honor, The Conference Group has recently rolled out a new product offering. The company, with its service, now provides at no additional cost the ability to stream, as well as download, a recorded audio conference. The company's leaders hope that this will help clients meet their full teleconferencing and collaboration expectations. These sorts of innovations are what led to the company being represented in the PHONE+ list.
For more information on the new product offering or other related teleconferencing services, visit ConferenceGroup.com. Also, the Conference Group's Channel Support Team will be at BOOTH #1636 in Las Vegas during the Channel Partners Conference and Expo, March 10-12 at the Rio All Suites Hotel & Casino.
About The Conference Group:
The Conference Group is a full-service audio and web conferencing bureau located in Newark, DE. Focusing solely on conferencing and teleconferencing solutions, The Conference Group has successfully developed a strong portfolio of satisfied clients and wholesale partners. With conferencing as a core competency, and not an ancillary service, The Conference Group has successfully tailored programs to meet a variety of specialized client needs, while maintaining an aggressive pricing strategy for its wholesale partners.
About PHONE+:
PHONE+ Magazine is the country's leading publication for communication distribution channels. For more than two decades, PHONE+ has been the undisputed leader in providing news and analysis to alternate distribution channels serving the communications industry. PHONE+ has a companion Web site, Phoneplusmag.com, a weekly newsletter, PHONE+Line; an annual buyer's guide; an annual Source Book and an annual Channel Program Guide.
###