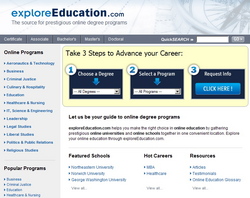 We see exploreEducation.com as a one stop information and educational resource for the student searching for online degrees
Toronto, Ontario (PRWEB) December 19, 2007
Embanet Corporation, a pioneer in full service online education provision, announces the launch of exploreEducation.com.
exploreEducation.com is the interactive Internet hub powered by Embanet to bring its impressive roster of schools, colleges and universities into one online portal to give visitors and prospective students access to its extensive roster of degree programs.
exploreEducation.com is the newest, most relevant Internet directory for adults who are searching for a prestigious online degree program tailored to their professional needs.
Considered the ideal vehicle to help students make informed decisions regarding online education, exploreEducation.com is a Who's Who of world recognized universities offering everything from Certificates through to MBAs.
"We see exploreEducation.com as a one stop information and educational resource for the student searching for online degrees" said Richard Ness, Chief Executive Officer of Embanet ULC. "We make it easy for students to find what they need to make the right choice in their education.
The new portal allows eligible students to investigate a variety of top tier, accredited universities and to choose areas of study based on school, degree or program. The easy navigation makes finding information about careers, featured online programs and educational resources convenient and efficient.
Embanet, a leading provider of fully hosted and supported e-Learning solutions to educational institutions, has assisted top-tier universities to rapidly grow their online education programs while providing superior support services, resulting in industry-leading graduation rates.
With exploreEducation.com, Embanet continues its pioneering role in online education. For more information please visit http://www.embanet.com or http://www.exploreeducation.com.
About Embanet
Founded in 1995, Embanet is an integrated, full service provider of online program design and development, marketing and enrollment and technology support services for postsecondary educational institutions. The Company provides mission critical services that allow its clients to generate new revenue streams through the launch of online programs and to effectively deliver technology support services to maximize student satisfaction and retention. Embanet's services allow its clients to focus on their core expertise of building their reputation as leading institutions in higher education.
Press Relations Contact:
Bart Levitt
S.VP of Sales and Marketing
416-494-6622 Ext. 3519
Investor Relations Contact:
Rick Ness
Chief Executive Officer
416-494-6622 Ext. 2259
###