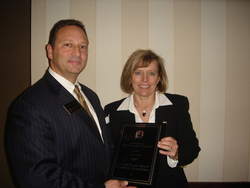 This is the third time we have achieved recognition
Indianapolis, IN (PRWEB) December 20, 2007
Midwest Capital Corporation president, Steve Young, is honored by Indiana Statewide Certified Development Company, as the individual lender with the most SBA loan debenture dollars and most SBA 504 loans approved. These six loans totaled more than $8,124,530 with debentures of $3,210.000.
"This is the third time we have achieved recognition," said Steve Young, president. "It was doubly rewarding to be the only non-bank lender recognized, and to have achieved the top numbers within the banking community. We look forward to the challenge to stay on top again in 2008."
The six loans that helped Midwest Capital Corporation receive this award are through helping these six businesses secure funding for their commercial real estate needs: Noblesville Honda, Angelo Julovich, DDS, Bone Dry Roofing, Aerodyn Engineering, and K&JK Enterprises.
The SBA 504 program is an economic development loan program designed to help small and medium size companies acquire or build their commercial real estate for expansion and job growth. Loans made under this program are structured to provide up to 90% financing. The program is a participation program that combines private finance money, which provides up to 50% of the project financing, with government backed financing, which provides up to 40% of the project financing.
Midwest Capital Corporation is a national, non-bank lender which provides both conventional and SBA 504 long term commercial mortgage loans, ranging from $1,000,000 to $5,000,000, to small and medium size companies.
###