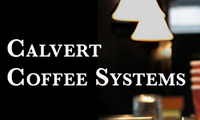 Calvert Holdings, Inc. seeks to give back to the community in a meaningful manner.
Cary, North Carolina (PRWEB) December 20, 2007
In a display of philanthropic generosity, Calvert Holdings, Inc. announced today the donation a complete portable coffee kiosk through one of its companies, Calvert Coffee Systems, to a newly formed United Methodist Church in suburban Atlanta: Sacred Tapestry.
Calvert Coffee System, a turnkey package with everything needed for a coffee shop amenity, is a one-stop solution that includes
•portable coffee kiosks (or traditional millwork cabinetry),
•equipment (espresso machine, commercial coffee brewer, display case),
•training,
•intellectual property, and
•assistance with vendor selection.
The Calvert system is the complete package to create a first-class, professional coffee kiosk for any environment.
Jeff Tippett, spokesperson for Calvert Holdings, Inc. who negotiated the gift said that the donation was in complete harmony with heart and nature of Calvert Holdings. "Calvert Holdings, Inc. seeks to give back to the community in a meaningful manner." He continued by adding, "This gift has a life of its own. Sacred Tapestry can use this catalytic tool as a means to accomplish its overall mission." Noting the ongoing potential of the gift Tippett remarked, "We hope this gift will be a revenue stream and a means of attracting new parishioners."
Tippett became aware of Sacred Tapestry's need by connecting in a social media platform. One of Calvert Holdings, Inc. businesses, Calvert Creative, has a major focus helping companies develop online visibility and helping businesses communicate with customers and other businesses through online media. Tippett noted: "Through our work in social media we became aware of Sacred Tapestry's need. Responding to that need came without hesitation."
In response to the gift the pastor of Sacred Tapestry, The Reverend Teresa Angle-Young, stated: "We were overwhelmed with Calvert's generosity. Not only did they donate the kiosk and everything we needed to get up and running, but they provided training and ongoing support as we developed our approach, and continue to share insights for the development of our cafe. It is clear to me that this is not just a charitable gesture; rather it is a commitment on Calvert's part to engage in the community in a meaningful way." She continued by adding: "Calvert has made it possible for us to offer hospitality in an atmosphere of excellence that we hope will show our congregants how much we value them. The church is no longer just a place to come on Sunday for worship. It's a comfortable neighborhood center that can be a place of connection and refuge in an otherwise hectic and sterile world. The atmosphere we're creating, with Calvert's help, is conducive to a more holistic approach to ministry than we could otherwise accomplish."
The coffee kiosks will be branded by Sacred Tapestry under the name "Divine Bean Café" and plans are to eventually operate the coffee shop 7 days a week during the church's program schedule for events such as book clubs, cycling and hiking clubs, and study series. Tippett also noted that "a growing number of houses of worship are now tapping into the expanding market of coffee as a means of attracting people that are part of the Starbucks generation." The church's target market is well-acquainted with stopping by Starbucks for their daily java fix, and now they'll be able to do that while at their chosen house of worship.
###