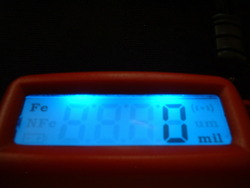 You wouldn't buy a cell phone without an illuminated key pad; why would anyone buy a Paint Meter without a lighted display?
Gulf Shores, AL (PRWEB) December 21, 2007
After recently shocking the Paint Meter Industry with an Illuminated Display on the new 2008 FS 488 Paint Meter, FenderSplendor announced a 10 day year end closeout for its car dealer and auto auction customers. The sale runs from 3:00 PM EST, Friday, December 21until Jan 2, 2008--or until 200 gauges are sold.
FenderSplendor President, Allen Willey, explained the logic in this unusual year end sale. "My Accountants think I'm nuts and the bookkeeper is screaming. We have been sold out of the new Illuminated 2008 FS 488 since it arrived; so they reasoned, why have a sale?"
"When we first started selling Paint Meters we made a promise to the Car Dealers to bring them the best possible value, and over 4,000 dealers have purchased a FS 488."
" We were able to get an extra 200 Paint Meters in our December production. I made a decision to cut the prices to the bone so that every car dealer who needs a Paint Gauge can get one this Christmas."
The Special Year End Sale begins at 3:00 PM EST, Friday, December 21. Full details are available at Year End Special Willey cautioned that the sale ends promptly at 3:00 PM EST, Jan 2nd.--or--when 200 FS 488s are sold.
In a recent interview Willey explained how he got involved in the Paint Meter Industry. A Car Dealer himself, Willey started looking for a Paint Meter about 5 years ago. Dismayed at the high prices, he looked for a more affordable alternative. Willey became the first dealer to openly discount Paint Gauges when he opened his eBay store, FenderSplendor1 in June, 2003 . He quickly realized that Car Dealers would buy the Paint Meters in large quantities if the price was low enough, so he opened the web site Wholesale Paint Meters
Seeing the demand grow, Willey designed the FS 488 working in conjunction with a major instrument laboratory in the Far East. When the FS 488 was announced 2 years ago car dealers rushed to get it. "We knew we had a winner, and Car Dealers loved the 488."
"I also knew there was a major flaw with almost every Paint Meter in existance. Many, if not most, vehicles are appraised at night and it is very hard to read the display on the gauges." Willey immediately started design on an Ice Blue Illuminated Display, and released it 2 months ago. Pictures and information about the 2008 FS 488 with an Ice Blue Illuminated Display are available at Ice Blue Display Paint Meter
Willey concluded by adding, "You wouldn't buy a cell phone without an illuminated key pad; why would anyone buy a Paint Meter without a lighted display?"
# # #