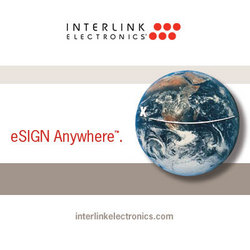 Online Account Opening: Raising the Bar
Camarillo, CA (PRWEB) December 21, 2007
As 2007 comes to a close, Interlink Electronics, Inc. (OTC:LINK.PK) estimates that 3/4 of a billion electronic signatures have been captured this year alone using its technology, demonstrating the expanding uses of esignatures across the industries where the company focuses its activities, including: banking, insurance, brokerage and financial planning as well as the healthcare sector.
"This milestone is more than just a testimony to the acceptance of esignature technology," says Rod Vesling, Senior Vice President, eTransactions of Interlink, the leading provider of electronic signature software, hardware and services. "Our growth reflects new uses for the technology and a broader market acceptance."
The benefits of esignatures are multifaceted, from generating sales and reducing operating costs, to speeding business processes while conserving paper and environmental resources. "As our solution continues to evolve, the uses for electronic signatures will reshape the way many industries conduct business," adds Mr. Vesling.
To highlight the achievement of our 750 millionth electronic signature, and to note the growth and impact of the esignature industry in general, we present "eSignatures By the Numbers":
95 - percentage of companies in the life and annuity industry that said they were likely or very likely to implement esignature technology, according to a recent survey by the Robert E. Nolan company.
60-70 - percentage of online bank account openings that are started online but abandoned when a check must be sent to fund the account. "Online Account Opening: Raising the Bar", 2007 Celent.
2 - percentage of U.S financial institutions now offering automated account openings online. About 18 to 20 percent of financial firms will offer this capability by 2010, according to industry research reports, predicts Celent. "Online Account Opening: Raising the Bar", 2007 Celent.
10-15 - percentage of an organization's revenues that are spent creating, managing, and distributing documents, according to the International Data Corp.
10,000 - pieces of copier paper that the average office worker uses every year, according to the Sierra Club.
2000 - the year Congress enacted the Electronic Signatures in Global and National Commerce Act (ESIGN Act), giving electronic contracts the same legal weight as those executed on paper.
3 - number of ways you can make an electronic signature, according to the Electronic Signatures In Global and National Commerce Act (ESIGN Act): a "symbol" (esigning on an electronic tablet); a "sound" (saying "yes" on the telephone); or a "process" (clicking "yes" on an online form).
About Interlink Electronics Inc.
Interlink Electronics, Inc. (LINK.PK) provides the financial services industry as well as the healthcare and government sectors with the electronic signature platform needed to eliminate paper from critical business processes. Interlink's complete solution including e-signature software, hardware, and services allows organizations to implement end-to-end electronic processes no matter where the signing takes place: in-branch, in-the-field or online. Interlink Electronics is also known for its family of MicroNav products, powered by the company's patented Force Sensing Resistor (FSR) technology and integrated in handheld consumer electronics devices. Headquartered in Camarillo, California, Interlink Electronics, Inc. also has offices in Japan, Hong Kong, and China. http://www.interlinkelectronics.com/esign
For information, please contact:
Nathalie Benoit
Interlink Electronics, Inc.
805-279-2705
For Investor Relations information, please contact:
Michelle Lockard
Interlink Electronics, Inc.
805-484-8855 ext. 114
All registrations and trademarks are properties of their respective owners. IntegriSign is a registered trademark of Interlink Electronics, Inc. This release contains forward-looking statements that involve a number of risks and uncertainties. The following are among the factors that could cause actual results to differ materially from the forward-looking statements: business conditions and growth in the electronics industry and general economies, both domestic and international; lower than expected customer orders; delays in receipt of orders or cancellation of orders; competitive factors, including increased competition, new product offerings by competitors and price pressures; the availability of third party parts and supplies at reasonable prices; changes in product mix; significant quarterly performance fluctuations due to the receipt of a significant portion of customer orders and product shipments in the last month of each quarter; problems or delays in reporting our results of operations to the public; and product shipment interruptions due to manufacturing problems. The forward-looking statements contained in this document regarding industry and review trends, industry product and technology acceptance, product mix and future business activities should be considered in light of these factors.
###