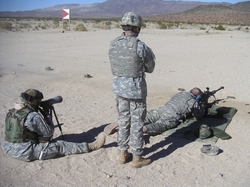 Simply put, it's just far too expensive.
Solvang, CA (PRWEB) December 24, 2007
A simple request by one Soldier in Iraq has become a major morale boost for troops deployed to Central Iraq. CPT John "Eddie" Gray, Commander of the 603rd Transportation Company, began his quest to establish an archery 3D recreational range for the Soldiers on his base camp. It was immediately determined that the 5,000+ Coalition Forces in their area did not have many options for recreational activities during their minimal down time.
"I immediately thought about events that could be an ongoing competition and different from the normal activities. The thought of an archery range just would not go away because I love bow hunting and also love to competitively shoot," said Gray. Several of the Company's Soldiers are outdoor enthusiasts, as are the Texas National Guard Soldiers who the 603rd TC is serving side by side with. Then came the hard part; finding organizations willing to donate equipment and supplies that would fully outfit the range with bows, arrows, and targets. Gray contacted several larger outdoor companies and encountered some resistance. "There just seemed to be too much red tape to go through."
Gray, who goes by Eddie, had become a member of MyHuntingRoom.com, a social network of hunters, anglers, and outdoorsmen, just prior to his deployment. Eddie e-mailed MyHuntingRoom.com asking what they thought about the idea, and if they could help him request support from larger outfitters and major corporations.
MyHuntingRoom.com stepped up to the challenge, posting a bulletin on their website and e-mailing their nearly 1,500 members requesting donations. Individual donors, mom and pop sporting goods stores, and outdoor websites like MyHuntingRoom.com and Bowhunting.net began putting 'Operation 3D' together. Eddie is thankful for all donations, and appreciates MyHuntingRoom.com's effort in setting the wheels in motion: "I consider MHR to be my primary sponsor for all that they have done."
'Operation 3D' has not been without its difficulties. The items gathered by MyHuntingRoom.com still need to be shipped to Gray. "Shipping has been a major issue", states Greg Gandolfo, a co-owner of MyHuntingRoom.com. "Simply put, it's just far too expensive." Efforts continue to try to find a cost effective way to get ship the donated supplies to the soldiers serving in Iraq, including the possibility of partnering with a major shipping company to try to get better rates to help out our troops.
MyHuntingRoom.com is the fastest growing social network for hunters, anglers, and outdoorsman. The website was developed and hosted by TechXpress.
# # #