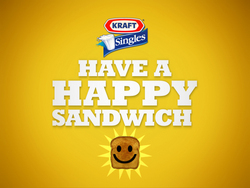 The passionate and creative stories we received truly illustrated the little moments of happiness brought about by enjoying a grilled cheese sandwich made with Kraft Singles
Glenview, IL (PRWEB) December 21, 2007
America has spoken – Chris Gianelloni from Metairie, La. is the big cheese! His entry in the Kraft Singles "Have A Happy Sandwich" video contest on MySpace received the most online votes, earning him $50,000 and the chance to see his video adapted into a national commercial.
"The passionate and creative stories we received truly illustrated the little moments of happiness brought about by enjoying a grilled cheese sandwich made with Kraft Singles," said Jane Hilk, vice president of marketing for Cheese & Dairy at Kraft Foods. "We think Americans will enjoy seeing the winning video as a national television commercial."
Gianelloni melted the hearts of voters with his animated "Tanning Bed" video – a tongue-in-cheek take on how a grilled cheese sandwich gets its golden brown color. In his winning entry, a plain cheese sandwich goes into a tanning booth and is transformed into ooey-gooey grilled cheese perfection – with the tan lines to prove it. Along with $50,000, Gianelloni will see his video transformed into a national commercial in 2008.
About the contest
Launched on Oct. 15, the "Have A Happy Sandwich" video contest invited people to create their own 10- to 15-second interpretation of a Kraft Singles "Have A Happy Sandwich" moment, demonstrating the simple joy that comes from enjoying a grilled cheese sandwich. Participants from across the country embraced the challenge in wildly creative ways, submitting over 450 qualified entries. Kraft Singles then gave Americans the opportunity to select the winner from the top five finalists by visiting http://www.myspace.com/haveahappysandwich between Nov. 26 and Dec. 10, 2007 to vote for their favorite grilled cheese-inspired video. The winning video will be turned into a commercial and will air nationwide in 2008.
For more information on Kraft Singles, visit http://www.KraftSingles.com.
Kraft Foods is one of the world's largest food and beverage companies with annual revenues of more than $34 billion. For more than 100 years, Kraft has offered consumers delicious and wholesome foods that fit the way they live. Kraft markets a broad portfolio of iconic brands in 155 countries, including six brands with revenue of more than $1 billion, such as Kraft cheeses, dinners and dressings; Oscar Mayer meats; Philadelphia cream cheese; Nabisco cookies and crackers; Jacobs coffees and Milka chocolates. Kraft became a fully independent company on March 30, 2007, and is listed in the Standard and Poor's 100 and 500 indexes. The company also is a member of the Dow Jones Sustainability Index and the Ethibel Sustainability Index. For more information, visit the company's website at http://www.kraft.com.
###