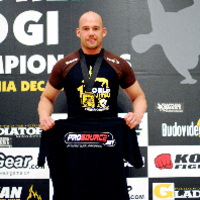 It's important to pass on what you know
Manasquan, NJ (PRWEB) December 22, 2007
For acclaimed Brazilian Jiu Jitsu fighter Jory Malone, nine long years of toiling, training, and mastering his art outside the limelight are beginning to pay off handsomely. The #2 ranked submission grappler in the nation in 2006, Jory recently added another significant accomplishment to his swiftly growing legend when he took First Place in the Master's Super Heavyweight Division in the First World No Gi Championships.
Now, manifesting the iron-clad discipline and rock-hard physical conditioning that are hallmarks of advanced Brazilian Jiu Jitsu training, Jory Malone looks for new challenges to master. As he prepares his for his next steps in his chosen sport, he maintains a grueling daily regimen that would surely intimidate athletes of more mainstream sports like baseball or football. And, like other athletes devoted to the demanding art of Jiu Jitsu, he micro-manages every meal and snack for maximum nutritional value and muscle-building impact. Supreme Protein® bars, Jory's favorite new snack, play a large role in his diet.
"With my training partner from Brazil, I workout at least two times a day," Jory says. "Intense resistance training to build strength and stamina, plus plenty of cardio as well. Brazilian Jiu Jitsu is very physical and very draining mentally. You really have to be on top of your game, and have vast reserves of strength and concentration. If you tire or lose focus, the potential for serious injury is always present. Because of this, I have to eat throughout the day to support my high levels of physical output. I have to eat clean, with a heavy emphasis on protein.
"That's where the Supreme Protein® bar comes in. So many protein bars out there are crammed full of inferior content that does nothing to fuel muscle recovery and growth. The Supreme Protein® bar is the exact opposite. It has more premium whey isolate than any other bar and its entire nutritional profile is really first rate. Each Supreme Protein® Carb Conscious bar has just six net carbs, which is really important, too. In Brazilian Jiu Jitsu, it's all about quickness, strength, and stamina. I can't get bogged down by inferior food sources and excess carbs. I eat two or three Supreme Protein® bars a day, so I'm never tempted to eat junk when I'm training."
In addition to maintaining his competition schedule, Jory also teaches up-and-coming fighters in his capacity as Senior Level Professional Strength and Conditioning Coach with Renegade Training International. In fact, his revolutionary teaching methods and his ability to coach fighters of all levels have made him one of the most sought-after coaches in his home state of Arkansas, where Jory established the first program to specialize in the sport of Brazilian Jiu Jitsu.
"It's important to pass on what you know," Jory says. "Brazilian Jiu Jitsu has had an overwhelmingly positive effect on my life. It's an honor, really, to share it with others." Jory regularly trains, teaches, and competes alongside his Renegade Training team members in competitions across the nation, always emphasizing his overall philosophy: Lead from the front.
Clearly, as Jory Malone enjoys his newest World Championship and contemplates new victories to come, that philosophy aptly sums up his current status on the Jiu Jitsu professional circuit.
# # #