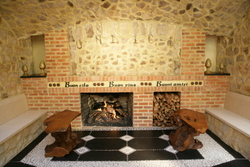 To be in Undici is to be surrounded by natural materials, because Tuscany celebrates nature.
Rumson, NJ (PRWEB) December 22, 2007
Newly opened Undici, located in picturesque downtown Rumson, NJ just moments from the Atlantic coast, takes authentic Italian dining to new heights. Upon entering, patrons are transported to a Tuscan farmhouse, where they are invited to experience Italian wine and cuisine at its very best.
"This restaurant was born out of a love of Italy," explains Pamela Diaco, Undici's designer and co-owner. "Undici is a heartfelt attempt at importing some of the atmosphere and cuisine that keeps us craving for more."
To recreate the Tuscan farmhouse ambiance, Mrs. Diaco adorned the ceilings with 100 year old beams salvaged from a barn in Wisconsin that was targeted for demolition. Similarly, she reclaimed 150 year-old floor boards from a doomed barn in New Hampshire. The randomly mixed white and red oak boards proudly wear scarring and the kerf marks from the more primitive saws of the old mills. The walls convey the same homage to antiquity, as they are done in the plasters and pigments that are used by Vatican restoration artists.
"We mixed straw in the spackle for the first floor ceilings to suggest a hayloft overhead and increase the sound proofing," explained Mrs. Diaco. "To be in Undici is to be surrounded by natural materials, because Tuscany celebrates nature."
Hundred year-old grapevines that have wooded over, as if plucked from an enchanted forest, are paired with glass tops to create one-of-a-kind display tables in the wine rooms. By the fireplace, guests can enjoy a glass of the finest Italian wine at tables fashioned from the roots of old trees that would have otherwise been destroyed. Mrs. Diaco describes these furnishings as "nature's sculptures." The heavy wood dining tables throughout, which were custom made in England, are typical of the Tuscan farmhouse, and timeless.
Undici's loft-like second level is a stone oasis. Partial walls that suggest ancient ruins allow glimpses of the bar below. Complete with its own bar and restrooms, this is an ideal venue for private parties and can accommodate up to 70 guests.
Recreating Tuscan-quality cuisine was as important as the décor in creating Undici. "Our policy is to use the freshest possible ingredients and let them speak for themselves," notes Victor Rallo, Undici's general manager and co-owner. The Fair Haven resident is a second-generation restaurateur. "We only serve homemade pasta using Caputo Italian Flour and bring in Italian meats from Salumeria Biellesse in New York City."
Executive Chef Elvin Molina brings his stellar Manhattan experience to Undici, having worked at Mario Battali's Lupa and also at Fiama Osteria. Co-Executive Chef Giovanni Atzori was raised in the restaurant business in Rome, and is an expert in the art of rustic Italian fare.
In true authentic fashion, all dishes at Undici are listed in Italian and will change seasonally to provide fresh and local items. The dinner menu starts with meats and cheeses and moves to warm antipasto, followed by casual fare including Pizza Napoletana, baked in a wood-fired oven. More formal dining at Undici features Pasta Casereccia, the house made pasta; ravioli and gnocchi, and Piatti del Giorno (plates of the day) featuring local meat and seafood. Pasta and entrée selections range in price from $23 to $39.
A full menu is offered in the dining room and at the expansive downstairs bar, which provides a lively dining option with flat screen televisions.
Undici's Tuscan fare is complemented by an exclusively Italian wine list, featuring every major wine-producing region in the country. Offering 400 wine labels and 6000 bottles in inventory, the wine is an integral part of Undici's décor, spanning two walls in glass rooms that blend seamlessly with the bar and the dining room. Bottles are priced from $38 to $2,500. Over 40 selections of wines by the glass are also available.
Undici's eclectic and extraordinary wine list features vertical selections including, Borgogno Barolo, Oddero Barolo, Sassicaia, Pelissero, Barbaresco, Oreno, Tignanello, and Valdicava. The 2001 Valdicava Brunello di Montalcino Riserva 2001 is one of only two single varietals of Italian wine to receive 100 points from Wine Spectator.
Undici is located at 11 West River Road at Bingham Avenue in Rumson, NJ. For more information please call (732) 842-3880 or visit http://www.undicirestaurant.com. Lunch is served daily from Noon to 4 p.m. Dinner is served Monday thru Thursday from 4 p.m. until 10 p.m.; Friday and Saturday from 4 p.m. until 11 p.m.; and Sunday from 4 p.m. until 9 p.m. Reservations are recommended.
Contact:
George M. Cahn
Leslie Lecount
CAHN Communications
201-876-3100
###