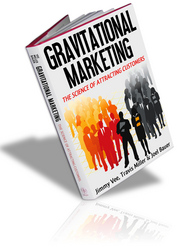 We believe resolutions are bad business for small business owners. Too many people make resolutions and break them. For a small business owner to truly have success in the coming year, they must forget about making some fleeting promise after a glass and a half of cheap campaign and spend some real time in focused thought, creating realistic goals and a solid plan to achieve them
Orlando, Florida (PRWEB) December 26, 2007
"Any business owner who makes a New Year's resolution is setting themselves up for failure." These incredibly powerful words come from Jimmy Vee and Travis Miller, the nation's leading experts on attracting customers and the co-authors of the soon to be released book, Gravitational Marketing: The Science of Attracting Customers (John Wiley & Sons, March 2008).
"For small business owners, New Year resolutions are New Year delusions," says executive business and marketing coach, Jimmy Vee. "A delusion is a false belief or opinion and is shockingly similar to a resolution because the person making it has no real intention of actually following through on their promise. This is not dissimilar to the way we'll see presidential candidates run their campaigns in the coming year," Vee continues.
"We believe resolutions are bad business for small business owners. Too many people make resolutions and break them. For a small business owner to truly have success in the coming year, they must forget about making some fleeting promise after a glass and a half of cheap campaign and spend some real time in focused thought, creating realistic goals and a solid plan to achieve them," says small business marketing expert, Travis Miller.
Jimmy Vee and Travis Miller are a powerful, entertaining interview. They'll tell you and your audience:

How to naturally attract new clients even on a shoe-string budget
The 7 key ingredients every business must have in order to stand out and be worth noticing
What they need to know BEFORE you tell your boss to shove it. These guys quit their cushy 6 figure jobs just months before their weddings. What they'll share is priceless for the budding entrepreneur
Why traditional marketing methods don't work and what they need to do to in today's economy to cash in big
How to recession-proof any business, and insulate it from outside factors like the economy, inventory problems, gas prices and competition
The single biggest mistake 99% of business owners make. If they're making it, it's costing them tens of thousands of dollars per year
What they can learn about getting more business from their single friends. By not knowing this they are wasting every marketing dollar they spend
How they can use E.S.P. to change your business and life. It has nothing to do with mind reading but this simple mental shift can fatten their wallet - FAST
Businesses around the country have seen dramatic increases in leads and sales due to implementing the success, marketing and time management strategies of executive business and marketing coaches, Jimmy Vee and Travis Miller, the nation's leading experts on attracting customers in nontraditional ways.
They speak regularly on seminar platforms across the country and are monthly contributors to many national trade publications on the topic of business growth and marketing. Jimmy Vee & Travis Miller are an excellent interview that will thrill you and your audience.
Jimmy Vee and Travis Miller are perfect New Year's guests for podcasts, blog chats, print interviews and on-air or print features. Book Early!!
# # #