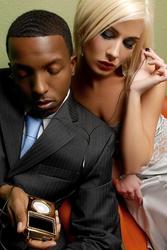 After the holidays are over, people everywhere will be looking for ways to accessorize their electronic gifts
New York City, NY (PRWEB) December 22, 2007
New Yorkers can make their newly gifted Apple® iPhone® or iPod® fit their own personal style this season thanks to a new luxury collection of 14-karat gold, silver and Swarovski crystal accessories by Gilty Couture(TM).
Metallo Design announced today that J&R is its first distributor in New York City for its Gilty Couture brand - now available in its flagship retail store at 23 Park Row, New York, N.Y. 10038 (across from City Hall Park) and online at http://www.jr.com .
Newly introduced Gilty Couture is already reaching celebrity status - drawing attention from the bistro to the red carpet. Metallo Design, a Dallas-based designer of fashion, luxury and lifestyle products, introduced this new collection of ultra-chic accoutrements as a limited holiday release to enhance and protect the season's most sought-after electronics.
"For the truly trendy, standing out in the iCrowd means turning to a surefire fashionista strategy - accessorize," said John Hubbs, CEO of Metallo Design.
"After the holidays are over, people everywhere will be looking for ways to accessorize their electronic gifts," Hubbs added. "Gilty Couture offers a unique and elegant answer to consumer demands for a more personal collection of accessories that elevate standards far above those of boring mass market accessories."
Gilty Couture's dazzling designs offer consumers a mix of precious metal hard case protection. This hand-crafted collection features brilliant bezel style settings with opulent Swarovski crystals, and each piece is draped in 14-karat gold or silver. Combining classic flare with modern style, Gilty Couture has brought to market a collection far superior to the current rubber and leather cases available for Apple's line of iPod and iPhone products.
The enclosures provide complete access to the devices' functions and connections. The electronics are nestled in an EVA foam interior lining for added protection. Each case arrives in the signature Gilty Couture Wardrobe Box™, complete with micro polish storage and cleaning pouch. With a variety of styling combinations, the accessories can be selected to complete any wardrobe and range in price from $55 to $200.
"New Yorkers will feel great about being found Gilty at J&R," said Hubbs.
About Gilty Couture
Gilty Couture is owned by Metallo Design, LLC, an innovative design company that produces jewelry, apparel and tech lifestyle products with high-street fashion sense. Headquartered in Dallas, Metallo Design manages a portfolio of brands across Europe, Asia and the Americas. The ethos, design and spirit of the company are to combine fashion and trends with functional products to meet the style needs of a wide range of consumers.
Gilty Couture designs apparel, fashion and lifestyle accessories. The brand is timely, fun, glamorous, elegant and sexy. Consumers are tired of boring and want a change. Gilty Couture is their answer. With collections that include gold, silver and Swarovski crystals, Gilty Couture is sure to please the individual that demands luxury as well as style and function. Learn more at: http://www.giltycouture.com and http://www.metallodesign.com . Click on the Gilty Couture press room for images and press materials.
Apple, iPhone and iPod are registered trademarks of Apple Corporation. Swarovski is a registered trademark of Swarovski AG. Gilty Couture and Gilty Couture Wardrobe Box are trademarks of Metallo Design LLC. Other company and product names may be trademarks of their respective owners.
# # #