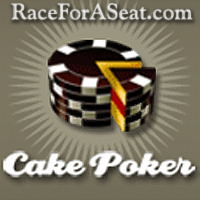 New York (PRWEB) December 24, 2007
RaceForASeat.com, in affiliation with Cake Poker, has announced the Cake Poker Rake Race. Each month, the player who's generated the highest rake is chosen to compete in the Bing Bang Tournament, a 9-player Sit'N'Go match awarding a $10,000 prize package to the major event of the winner's choice.
The Cake Poker Rake Race is a new promotion created by Cake Poker for new players. When signing up a new account with the online poker room, the player must use the appropriate bonus code (found at RaceForASeat.com) to be eligible for the race. Players playing poker for real money will be eligible. The rake generated from both tournament and cash game play counts towards the accumulation of the highest rake generated for each month.
The race will continue for 9 months, with 1 player chosen each month until 8 players have been awarded entry to the final 'Big Bang' - a 9-player Sit'n'Go style tournament.
That's only 8 players - where's the ninth? Throughout the first 8 months of the promotion, members who successfully refer the most new players each month will be awarded entry to a Big Bang Warm-Up Sit'n'Go tournament. The winner of that event claims the final seat in the Big Bang tournament.
The winner of Cake Poker's Big Bang Tournament is awarded a $10,000 prize package to the major poker event of their choosing. More details can be found at RaceForASeat.com, including the bonus code that must be used in order to be eligible to enter the race. The respective bonus code also provides a 100% matching bonus on the player's first deposit, up to $500.
About RaceForASeat.com
RaceForASeat is a premiere resource for the online poker room,
Cake Poker. Visitors to the site will find information regarding all aspects of Cake Poker. Highlighted features include deposit options, promotions, gold cards, faq's, forums and a fully detailed Cake Poker review.
For more information:
http://www.raceforaseat.com
###