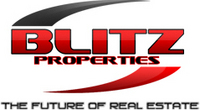 Blitz Properties business model was created for the agent that has identified what area they excel in and do not need the guidance and support of the traditional brokerages here in DFW
Plano, TX (PRWEB) December 29, 2007
Blitzproperties.com (A Licensed Texas Brokerage) debuted in DFW this week with an overwhelming positive response. With the support of local DFW media companies, Blitz Properties will enter the market with a very aggressive marketing campaign for both agents and home buyers.
They feel that many real estate agents are being micro-managed by the established big brokerages. Many agents MUST attend Monday morning meetings as well as make hours of phone calls to friends and family asking for leads. Well the real estate industry is changing. This is why Blitz feels their business model will be ideal for the agent that is looking for a company presence in the industry along with a non-corporate feel.
Blitz is looking to grow quickly by having the best perks for their agents. This includes a virtual office for each agent and paying a 100% commission splits for many if not all of the agents transactions. The virtual office will include a new laptop provided with wireless internet access for free. Adding this technology at the companies expense will allow the flexibility for the agents to be productive anywhere immediately, not just their home office.
They would also like to announce a new program that is a first. It allows anyone that qualifies to obtain their real estate license free of charge.
"Blitz Properties business model was created for the agent that has identified what area they excel in and do not need the guidance and support of the traditional brokerages here in DFW," explains Brad Holden, broker of Blitz Properties. "We feel that giving our agents the highest known split in the industry and the tools to help them succeed will make their deciscion be an easy one. The leads we are projecting in the next couple months with the launch of a new site will definately help agents make the move to join the Blitz team."
What makes Blitzproperties.com unique is that it is a lifestyle site, targeting buyers and agents that want to buy, sell, rent, invest or even find creative financing. Now consumers can research new homes, have access to development opportunities with 100% financing programs, and click through the most current rental properties available in the area, all in one Real Estate Superstore, it's free and easy. With over 83% of homebuyers searching the internet first for their property, Blitzproperties.com promises to revolutionize the way people shop and sell real estate.
Blitz has valuable tools for neighborhood profiles, school reports and recent home sales. They make it fast and easy to research all your real estate needs from loan tools to pre-qualifying.
In the coming months, Blitz Properties will debut a new site that is the first of its kind here in the DFW Metroplex. As of today, two of the top industry leaders have already signed up to be an important part of the website.
"After coming to terms with our new partners, we are very confident that it will be a tremendous success," Holden comments.
Blitz has not given any details about the new website to date. They are very excited about the launch and with the addition of the industry leaders feel that they will have little competitors, if any. There has been a very positive response from focus groups conducted as well as many local new home builders.
Catering to small businesses and residential buyers with an advertising model that will create a tremendous amount of leads, this projected multi-million dollar revenue model will revolutionize the industry here and rival some of the biggest real estate sites that are active today.
Blitzproperties.com is based in Plano, Texas and owned by Holden New Homes, L.P. This real estate brokerage is based on a virtual office for its agents allowing them to operate without someone looking over their shoulder, and compensating each agent 100% of their commission on each qualifying transaction. Blitz Properties has extreme knowledge of this market having a new home presence for the past seven years. For the last two years they have ranked in the top 50 Brokerages in DFW for sales.
If you are an agent, please submit resumes via e-mail at info @ blitzproperties.com or by fax at (972)-334-9907. Blitz will then look over your resume and notify you about a face to face meeting.
Please visit them at http://www.blitzproperties.com
# # #