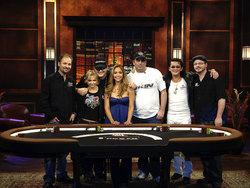 Las Vegas, NV (PRWEB) December 28, 2007
NBC's Poker After Dark kicks off Season 3 with a match that is sure to have everyone buzzing. Not only are 5 of the world's best players featured in Phil Hellmuth, Jennifer Harman, Scotty Nguyen, Daniel Negreanu and Mike Matusow, but they were specifically invited to play against amateur player Ken Light, who won his seat in this match via a freeroll at FullTiltPoker.net. A 28-year-old graduate student at Rutgers University, Ken will do his best to make amateur and online players everywhere proud as he takes on these legendary five for the $120,000 winner-take-all first place prize.
The odds Ken had to overcome to play in this match were staggering. All he had to do was win a designated PAD single-table sit & go to advance into the second round, where he then faced 360 players in a multi-table tournament. By finishing in the top nine, he was entered into the final round, along with 1394 other players who had done the same thing. But he defeated them all, and sat stunned for about 3 hours afterwards at his home in Pennington, NJ.
Faced with a decision of who to match Ken up against, the show's producers interviewed him over the phone and asked him who his favorite players were. It was from this list that they came up with the idea of inviting the players who were Ken's personal favorites. The pros were happy to oblige, and the Dream Match was conceived.
This match also marks the debut of Marianela, the program's new host. Now known as the "Poker Princess," viewers are in for a real treat. See if you don't agree that she will soon become a household name in the poker community for her witty personality, improvisation, expertise in conducting interviews and her flair for having fun in front of the cameras.
Brief profiles of all six players follow. The match will begin airing on NBC late night Monday at 2:05 a.m., December 31, and will continue for five consecutive nights in the same time slot. A special program called the "Director's Cut" will air late night Saturday, January 5, at 1:00 a.m., right after Saturday Night Live. This show will feature Marianela with a behind-the-scenes look at the week with highlights and insightful player interviews.
Each of the match's six segments can also be viewed daily at http://www.nbcsports.com/poker. Be sure to check out the new player profile section, which now includes the players from all of PAD's three seasons, as well as their past performance records on PAD and NBC's National Heads-Up Poker Championship. These profiles are updated weekly. A detailed profile of Marianela can be found there also. Additional information on the players is also available at http://www.pokerafterdark.com.
So, will Phil or Mikey finally win a match? Will Scotty prevail in his first PAD appearance, or will Jennifer or Daniel join only three other players who have won two PAD titles? Will "The Brat" complain that Ken doesn't even know how to spell poker, or will the amateur prevail and complete the Cinderella story? This match is very entertaining, and has a final hand never before seen on PAD, so be sure to tune in!
Negreanu, Daniel: (Seat 1)

Owns three WSOP bracelets and two WPT titles
Lifetime tournament winnings in excess of $9.88 million, and ranks 3rd on the all-time money list, 1st on the WPT all-time money list
Hellmuth, Phil: (Seat 2)
1989 World Champion, and won his 11th World Series bracelet in 2007, making him the first person in history to do so
Career tournament winnings in excess of $9.58 million, and ranks 4th on the all-time money list
Harman, Jennifer: (Seat 3)
Owns two WSOP bracelets, and finished 2nd in the 2007 World Series of Poker Europe H.O.R.S.E. event
Career tournament winnings in excess of $1.85 million
Matusow, Mike: (Seat 4)
Winner of two WSOP bracelets
Lifetime tournament winnings in excess of $5.95 million, and ranks 20th on the all-time money list
Nguyen, Scotty: (Seat 5)
Winner of one WPT title and four World Series of Poker bracelets, including the World Championship in 1998
Career tournament winnings in excess of $7.54 million, and ranks 11th on the all-time money list
Light, Ken: (Seat 6)
Currently a graduate student studying behavioral neuroscience at Rutgers University, and plans to enter academia upon graduation
Making his first trip to Las Vegas to compete in the match, and has played in an actual card room only a handful of times
This press release was written by Dennis Oehring, who works with the firm POKER-PROductions. Photo courtesy of NBC's Paul Drinkwater.
###