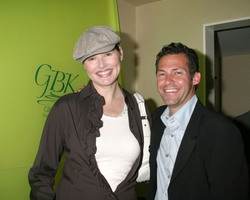 It is a pleasure to be in position to be able to continue to help these non-profits.
Los Angeles, CA (PRWEB) December 28, 2007
GBK Productions will not only feature the Writers Guild, but two additional noteworthy non-profits as they celebrate the 2008 Golden Globe Awards with their annual gift suite at the hot new 60 Thompson Hotel in Beverly Hills.
This year GBK Productions has chosen the Writer's Guild and the writers that are out of work during this hard time; 'The Brent Shapiro's Foundation, founded by Bob Shapiro, whose goal is become the national leader in the fight against drug and alcohol dependence; and The Gondobay Manga Foundation, founded by Isaiah Washington, that is focused on building schools for the underprivileged children in Africa as the featured Non-Profit organizations for their suite. GBK Productions will donate 20 percent back to these featured charities. Giving back is at the heart of what Gavin Keilly, founder, stands for and is now known for, with 20 percent donated back to a featured non-profit for every event they produce. Gavin Keilly said, "It is a pleasure to be in position to be able to continue to help these non-profits."
The featured non-profits will have a presence in GBK's suite to potentially get more celebrities involved in their causes and they will be getting the same $50,000 gift bag that the celebrities will be receiving to auction off for their cause.
With a hot new location, founder Gavin Keilly wanted to make this gift suite a bit more intimate, so he limited it to only 25 vendors with great gifts for the honorees and presenters.
As always, GBK likes to find ways the celebs can travel and make a difference in the world, so I-to-I Travel will be back giving them their choice of any destination to give back and enjoy the world. To make sure their agent can get a hold of them when that next big part comes up, I-C Hope will be giving the celebs an amazing new I-Phone and Gilty Couture will be giving them their choice of a Silver, Gold or Swarovski crystal case to insure nothing happens to it.
To make sure everyone looks great for the big day, Revitalash will be giving out their coveted eyelash conditioner that will dramatically beautify the celebs' eyelashes. Their natural eyelashes will look spectacularly longer, thicker and fuller. Bodyography will be on hand with their top makeup designer to pamper those that may like a little touch up and Patrick from 9022 Salon will be doing their hair. Just in case they want to do their hair themselves Barbar will be passing his brand new wireless blow-dryers and curling irons. Of course, everyone wants nice teeth, so Dr. Catrise Austin is providing certificates worth $5,000 of cosmetic treatments. To soften that great skin they have MicroDermamitt will be doing treatments and giving them their natural exfoliating mitt to take home with them. We want to make sure the presenters and winners can see the teleprompter or their speech for that matter, so Dougherty Laser is providing all the nominees and presenters will complimentary Lasik eye surgery. For anyone that has some unwanted hair, Serenity Laser Center will be giving out $2,000 certificates to use as they see fit. Finally, not that the celebrities have any wrinkles, but in order for their face to remain beautiful 3 Lab Skincare will be giving out their amazing $1,000 cosmeceutical skincare solution, exclusively at Barney's New York.
Now that they received all the treatments they need, accessories are a key component to making an outfit. Croton Watches will be giving out their elegant watches to all the nominees and presenters, in addition Lindsay Pearls will be on hand with their gorgeous jewelry!
As celebs travel and work long hours on the set, it is important that they take care of themselves too. NatureBright products will be providing their renowned Light Therapy product that most recently has received accolades for helping with chronic fatigue, jet lag, sleeplessness and restlessness. It is also important they drink plenty of water, so Park City Water will be giving out a year supply of their eco friendly, refreshing water. While they have a free moment on the set actors will have the opportunity to read the best selling book, and valuable life coaching tool, 'A Diet for Change, Apples, Eggs, and Onions' given out by E-play. Typically celebrities don't have time to plan a vacation, make a dinner reservation, send out holiday cards or buy a birthday gift, so Dream Weaver Concierge is going to be giving out 10 hours of their services to make their life just a little less stressful. To make their life a little more relaxing, 100Candles.com will be giving a couple hundred dollars worth of candles to each celeb too. As Metropolitan Gifts has had tremendous hit in the past, they have decided to return again with their "Green" box of luxury items for the celebs to take home with them.
Photowow has a remarkable way of truly capturing any moment, yet alone wining a Golden Globe Award. They will be providing everyone with a certificate to receive an Andy Warhol like picture with any photo they wish. Bella Bear will be giving away a very 'personal' item, by giving the celebrity the opportunity to personal a teddy bear with an item of clothing of theirs or from a loved one. The World Poker Tour will be giving Celebrities a three month subscription to CLUBWPT.com where they can play in over 4000 poker and black jack tournaments a month for a chance to win over $100,000 in cash and prizes. This is a great opportunity for them to sharpen their poker skills in time for the Celebrity Invitational, which their have also been invited play in, on March 1st where first place takes home $200,000! (A donation will also be given to the Top 10 Celebrities Charity of choice)
To see any and all movies that either they have been in personally or wished they had been in, Vudo is passing out home entertainment units with literally thousands of movies on demand. While watching these movies they will be able to enjoy a 6 month supply of the unbelievably tasty, yet healthy Corazonas Chips and the new very cool Mini Kegs of Heinekin Beer, which the celebs have absolutely loved in past suites.
A Rose of Thanks will be back to have the celebrities fill out greeting cards for the troops overseas, that have certainly been a great hit! Finally National Credit Group will be providing $1200 worth of services...
All in all this should be a very relaxing day, and helping many important Non-Profits in the process.
About GBK Productions
GBK Productions (formerly GBK Events) founded in 2000 by Gavin B. Keilly, is an event productions company specializing in fund raising for major charitable organizations and celebrity events. GBK Productions has helped non-profit clients raise millions of dollars and produces the most-sought after gift suites including EXTRA's Oscar & Emmy Suites, Lounges for the Golden Globes, American Music Awards, and various other Award Shows. Headquartered in Hollywood, CA, GBK Productions serves multinational charities and corporations throughout the world. http://www.GBKProductions.com
###