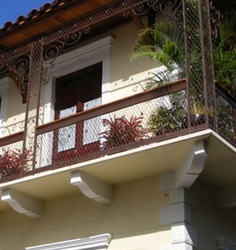 We treat all of our guests as good friends of the owners
(PRWEB) December 28, 2007
This month Panama City's old quarter, Casco Antiguo, celebrated the opening of its first upscale hotel in nearly 100 years. Situated in a restored turn-of-the century mansion, Canal House caters to travelers who desire the service of a boutique hotel with the privacy and space of a private home.
"Think of Canal House as a good friend lending you his city villa and staff," says Manager Samantha Sagel. "We have found that many people who visit Panama want very personalized service and also want to experience the charm of the historic district, which wasn't previously accessible."
The Canal House's intimate size -- just three suites -- and staff of six allows a level of personalized service that even the best boutique hotel would have difficulty matching. "We treat all of our guests as good friends of the owners," says Ms. Sagel.
The Canal House targets groups and business travelers who require the entire property, as well as individuals who need only one suite. The rooms have all of the modern conveniences including high-speed internet, DirectTV and iPod docking stations, and the large living and dining areas are ideally suited to hosting receptions and small events.
Canal House is located next to the Interoceanic Canal Musum in the heart of the 300 year old Colonial district alternately referred to as Casco Viejo and Casco Antiguo. A UNESCO World Heritage Site, Casco Antiguo is in the midst of an energetic revitalization, but still retains the boisterous flavor of an authentic Latin American old quarter. This location -- walking distance from all of Panama's key government ministries and five minutes drive from the Panama Canal -- makes the property ideal for business travelers brought to Panama in connection with the Canal expansion or other government-related business.
The Canal House is owned by Conservatorio S.A., a development company dedicated to the revitalization of Casco Antiguo.
###