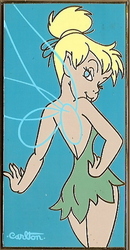 The Magic of Disney Fine Art Exhibition.
Ogden, Utah (PRWEB) December 31, 2007
Sanderscc.com in Ogden, Utah, is pleased to announce a gift with purchase The Flirtatious Fairy Tinker Bell Disney Fine Art Pin by Trevor Carlton is the exciting new exclusive Disney pin gift available to you. Guests who purchase any Disney Fine Art Giclee from Sanderscc.com will receive one (1) free Disney Fine Art pin with each purchase. Each pin will be individually marked with a limited edition number (example 1 of 50) and comes in its own velvet bag.
Pin Facts
Flirtatious Fairy Tinker Bell Disney Fine Art Pin
Artist: Trevor Carlton
Edition Size: 50
Size: 3 inches
Release date 1-7-08
This pin was created to celebrate "The Magic of Disney Fine Art Exhibition." This exciting new exhibit features various artists such as, Trevor Carlton, Tricia Buchanan-Bensen, James Coleman, Mike Kupka, Harrison Ellenshaw and Peter Ellenshaw, among others.
In addition to the exhibit, over 250 limited-edition Disney Fine Art Giclee's on canvases are available for purchase on a website and virtual gallery at Sanderscc.com .
The website will be showcasing work from the artists listed below:
John Alvin - Toby Bluth - Tricia Buchanan- Bensen
James Coleman - Dick Duerrstein - Harrison & Peter Ellenshaw
Michael & Inessa Garmash - Manny Hernandez - Mike Kungl
Mike Kupka - Allison Lefcort - Stephen Reis - Tim Rogerson
John Rowe - Jim Salvati - Jim Warren - Trevor Carlton
Quantities are limited. Limited-Editions vary in size.
About Sanderscc.com - established in 1960, it is Northern Utah's leader in Numismatic Coins and Collectibles. They carry a wide selection of US Coins, including the US Presidential Coin Program, and World Coins. The Disney Fine Art Gallery is the newest addition to the store.
The Managing Director of Sanderscc.com is KC Sanders; KC has a long history working for the Walt Disney Company. He worked in the Disney Specialized Businesses area for over five years, creating Disney Fine Art Exhibitions at the Disneyland Resort, Walt Disney World Resort, and Disneyland Paris Resort. He is bringing his knowledge, expertise and passion back to Utah to showcase the magic of Disney for the community.
About DisneyPins.com the official Disney site includes new releases, event information, pin trading locations, and a database of over 3,500 pins.
How do I get started in Disney Pin Trading?
Disney Pin Trading is as easy as 1-2-3.
1. Meet a Disney Cast Member wearing a pin trading lanyard.
2. Find a Disney pin with your favorite Disney character, attraction or design.
3. Trade your Disney Pin with the Cast Member.
We also offer a variety Disney Pin Trading "Starter Sets." These "Starter Sets" feature a uniquely themed Pin Trading lanyard and four Disney pins. You can keep some pins and trade others with Guests or Cast Members. Visit our "Tools of the Trade" page for details on these "Starter Sets." They are a fun way to join the exciting world of Disney Pin Trading!
Please contact KC Sanders for more information:
801-393-9419
© Disney elements © Disney
© 2007 Disney Fine Art
© Sanders CC is an authorized Disney Fine Art Gallery as part of the Collectors Editions Publishers
of Disney Fine Art Gallery Network - © Collectors Editions - Publishers of Disney Fine Art
*Quantities are limited. Offer valid while supplies last. Subject to restrictions and change without notice. Void where prohibited.
*Returns are accepted~ Guest pays return shipping plus 10% restocking fee and must return free pin with order.
*Pins will be delivered after official release date of 1-7-08
###