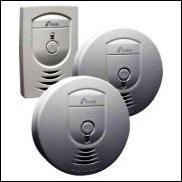 Wireless interconnected smoke alarms take fire safety to a whole new level
(PRWEB) March 07, 2007
Clark, NJ (PRWEB) March 7, 2007 -- Select Safety Sales LLC adds the Kidde Wireless Interconnected Smoke Alarm System to its consumer line of Safety Products. The Kidde Wireless System is the only UL listed system on the market today. This ingenious system connects all of the smoke alarms in a house on one interconnected system. When one alarm in the system sounds, every alarm in the system will sound. The Wireless Smoke Alarm System gives the occupants of a home the extra needed time to safely escape in the event of a fire.
Wireless smoke alarms allow a family to be warned of a house fire before the smoke and flames reach them. A traditional smoke alarm will only sound when smoke comes in contact exclusively with that individual alarm. In a house where a family is sleeping, it could be too late because the house could already be engulfed in smoke and flames. "Wireless interconnected smoke alarms take fire safety to a whole new level," says Select Safety Sales CEO Matthew Kane. If a fire starts in one part of the house, all areas of the house are alerted at once.
Newer homes built after 1993 are required to have an interconnected smoke alarm system hardwired into the house, but any house built prior to that year were not. To hardwire a house that does not have a system in place is a messy and expensive project to undertake. "The beauty of the Kidde Wireless Interconnected Smoke Alarm System is its ease of installation and relatively inexpensive cost," says Matthew Kane. Now all homes can have the added protection of an interconnected system.
Many advances are being made every day in the ongoing research in fire protection. One example of this research shows that children and older adults respond better to certain decibel levels when an alarm sounds. The Kidde Smoke Sounder Alarm can be purchased along with the Kidde Wireless Interconnected System to address the decibel level needed to alert older adults and vocal commands to awaken young children. "I am truly excited to be able to provide my customers with these state-of-the-art and innovative smoke alarms and fire safety products," states Matthew Kane.
For additional information contact:
Matthew Kane
Select Safety Sales LLC
(866) 864-3495
###