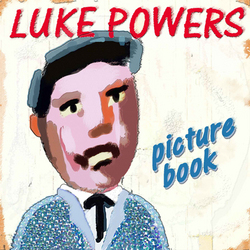 What can I say . . . it's great!
Franklin, TN (PRWEB) September 12, 2007
Luke Powers is not your ordinary Nashville songwriter. A PhD in English from Vanderbilt University and MA in Folklore from UNC, he writes songs in the tradition of William Blake as much as Bob Dylan. Smart, quirky, offbeat, at times haunting--usually in 3 minutes or less.
Theme:
His new CD Picture Book is a blend of acoustic and electric Americana music that recounts his coming-of-age in the South. Powers writes about his childhood, running the woods of Signal Mtn, TN, once peopled by the Cherokee ("removed" in the 1830s). He writes about first kisses in the Confederate cemetery, having a love-hate affair with an older woman "living on air."
His story also includes his "portrait of the artist as a young songwriter"--and his sad realization that Music Row (once home to Dylan, Cash, Kristofferson, Prine and Townes Van Zandt) has been bought out "Corporate Country". He writes about making music with Tommy Spurlock from the gutter of Music Row--taking Neil Young's advice that the ditch is always more interesting than the middle of the road.
The autobiographical songs range from the haunting to the wryly humorous.
"I Saw John Kennedy Today" (already downloaded over 6000 times on the internet) rewrites the history of the Kennedy Assassination (he lives in this version);
"Cover Song (for Sgt. Pepper)" (also widely downloaded and picked up by BBC4) is a homage to the famous album cover and questions the paradox of fame and oblivion;
"Cece's Song," "Driving with my Demon" and "Northern Lights," all feature Luke's idiosyncratic finger-picking and elliptical lyrics about home, loss and mother;
"Let the River Keep the Time (for John Hartford)" is a homage to the late-night picking parties Luke attended at the Hartford's home on the Cumberland River;
"Mr Yeah Yeah Yeah" and "Tommy's Goin' Home to Texas" take direct inspiration from the Music Industry. The former is a portrait of the all-too-common Nashville-Austin over-the-hill hipster while the latter deals with Tommy's decision to leave Nashville for Austin during the making of the album. The song brought a tear to Garth Hudson's eye during the recording.
Response:
Prerelease response has been overwhelmingly favorable. Tom Fahey of British Americana-OK (LEITH-FM) chose the CD as album on the month (August 2007). The CD debuted at #20 on the Roots Radio Folk Music Report (August 23, 2007). It debuted at #17 on the Euro-Americana chart in the company of artists such as Kelly Willis and Richard Thompson. It has also been chosen for inclusion on the Acoustic Rainbow Sampler to be released in October 2007. Other praise includes:
Sue Few (KRBS): "Picture Book is definitely the CD you want to hear over and over again."
Eddie "the Cosmic Cowboy" White (2RRR 88.5 FM, Sydney, Australia): "How could you not love "I Saw John Kennedy Today"?"
Mike Penard (Radio ISA, France) "beautiful songs, good sound . . . and a voice . . . all the ingredients."
Freddy Cellis (Rootstime, Belgium) "the songs are generally entire novels which are told in songs of 3 or 4 minutes."
Henry Hallett (KCXI, Simple Folk): "What can I say . . . it's great!"
Making the album:
The making of the album is a story in itself. In addition to Garth Hudson and Tommy Spurlock, Picture Book features Anthony Crawford (Neil Young, Black Hawk) and Luke's brother Sam Powers (Superdrag). Spurlock lost his train-car studio halfway through production and the drummer Randy Hardison (Garth Brooks) was murdered.
The CD is dedicated to Hardison (whose mysterious death was profiled on CBS' 48 Hours). Rather than find another drummer, Luke and Tommy decided to leave drums off the remaining tracks. No one could match Randy's grace and groove.
Meanwhile Powers had teamed with Spurlock on the antiwar protest album Kakistocracy (Austin Records 2006), which received wide airplay and strong critical reception: "Makes Steve Earle look like a Milquetoast" - Stewart Mason (AMG). He turned from the political to the personal and finished Picture Book in Spurlock's new Austin, Texas, Studio.
New artist new media:
Powers is proud to be an independent artist. "Just like William Blake," he says. Roots radio and the internet have allowed him to connect with an audience all over the world.
"And I've never left Nashville," he says.
He's excited offer the songs in multiple formats: CD, Streaming Audio, Free Mp3s and Music Videos. Picture Book is available from CDBaby and iTunes. Illustrated lyrics, like those of Blake's are available on his website.
"Right now I'm still moonlighting," says Powers, "but at least my work is seeing the light of day."
###