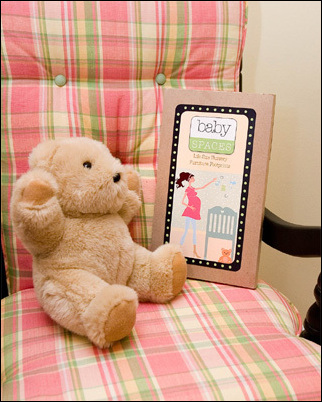 Planning for the arrival of your precious little one while pregnant is a time of both euphoria and anxiety and nothing is more important than making sure everything for your new infant is perfect -- down to the very last detail
Prairie Village, KS (PRWEB) July 17, 2007
Design Yourself Interiors, Inc. released their newest product called Baby Spaces™ - http://www.designyourselfinteriors.com/baby.html - life size furniture templates that allow expecting parents to create their own safe, functional and attractive nursery with the accuracy of a professional interior designer. Baby Spaces provides the actual "footprints" for a crib, bassinet, changing table, chest and glider or rocking chair. The do-it-yourself affordable templates show exactly what pieces of furniture are needed before purchases are made -- and precisely how they will fit in the new nursery space. As an added bonus for the novice expecting parent, Design Yourself Interiors, Inc. placed interior designer tips -- 'do's and don'ts' -- for furniture placement in a nursery on each template as a guide for new parents.
"Planning for the arrival of your precious little one while pregnant is a time of both euphoria and anxiety and nothing is more important than making sure everything for your new infant is perfect -- down to the very last detail," said Melody Davidson, co-founder of Design Yourself Interiors, Inc. "Creating a safe, functional, and attractive living space especially for your baby comes with its own unique challenges. Our newest product -- Baby Spaces -- will alleviate the stress of guessing how to decorate what will soon be the most important room in your house -- the nursery. Baby Spaces makes the perfect first gift even before the baby shower for the expecting couple from grandparents, siblings, co-workers, friends and extended family," Davidson concluded.
The sturdy but lightweight and reusable craft paper Baby Spaces templates from Design Yourself Interiors, Inc. are the creation of two high-end nationally known interior designers -- Melody Davidson and Kathy Wagner.
Baby Spaces are available immediately online at http://www.designyourselfinteriors.com/baby.html for $19.99 + shipping & handling. They will be available in stores in the 3rd quarter of 2007 -- for wholesale inquiries contact Melody Davidson at 913-262-7127.
Media Contact: For high-res images, more information, or free media samples call Ria Romano, RPR Public Relations, Inc. at 786-290-6413.
###