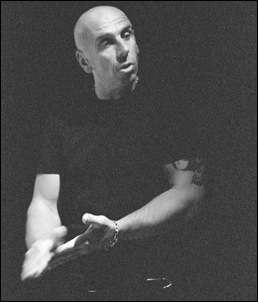 Cairo International Festival for Experimental Theatre
New York , NY (PRWEB) March 12, 2007 - Sergiy Shvydkyy, an internationally renowned avant-garde dancer, mime-
actor, choreographer, teacher and leading figure in contemporary performing arts in Ukraine, has recently returned from Europe after the world premiere of a new work --'Master Class Carmen'-- a reinterpretation of the Carmen myth to sold out audiences. Set to the dramatic music of Maria Callas singing Bizet's operatic masterpiece and to the Bolshoi's "Carmen Ballet" by composer Radion Shchedrin, it combines dramatically evocative music with powerful movement.
With so many dance companies competing for recognition, it is difficult to find one that attracts and captures audience's undivided attention. Shvydkyy's intriguing new art form, which combines powerful expressive movement with theatre, has heated up stages in Europe and is ready to leave its mark in North America. His unique narrative expression and dramatic virtuosity, combined with high-camp theatricality make his interpretations particularly visceral, physical, sensual and multi-dimensional. Combined with audio and visual technology, the audience is drawn into a new, intensely moving experience.
Shvydkyy, himself classically trained in Kiev, creates works of great expressive force, seeking a universally comprehensible gesture-based form of artistic communication through choreography and intense music interpretation. Shvydkyy, now a Canadian citizen, resides in the Toronto-Hamilton area, after leaving his native Ukraine to broaden his scope and influence in the world of dance choreography and performance both in Canada and in the United States.
In recognition of his 9 years' participation and unique position as an international cultural icon in contemporary dance performance theatre, the "Art Quick Dance Company," Art Quick Dance Company, which Shvydkyy founded in 2005, was invited by the Minister of Culture of Egypt to participate in this year's "Cairo International Festival for Experimental Theatre" with his performance of "Master Class Carmen." By audition and then invitation, this internationally claimed Festival chooses and features artists from all over the world in order to provide an expressive medium for experimental theatre and exchange of ideas between different cultures and civilizations. In addition to having this invitation extended to him for the past nine years, Shvydkyy was awarded the honor of opening the Festival in 1998 with his extraordinary rendition of 'Venus in Furs'. His performance of 'Isadora Duncan' (1997) was staged on a specifically constructed platform in front of the Sphinx and the Pyramids.
Shvydkyy's most recent creation, Carmen, is unique in both its dance style and its interpretation of the story. There are not one but three Carmens who compete for the attention of the soldier and the matador and thereby create a range of compelling and different interpretations of their unconventional movements. The mission of Shvydkyy's unique dance style is to "create and then create more for creativity is the secret fuel which endows people with the ability to think and further understand themselves in relation to others". His innovative efforts evoked much talk and acclaim from audiences in Cairo as his famous story of love and betrayal was seen in "a new light focusing not only on the physical but also on the emotional level of characters" (Ministry of Culture of Egypt). After the Carmen performance, he was invited by representatives of the Ministry of Culture to offer master classes and prepare a joint international project. Maestro Shvydkyy will be organizing this project later this year, combining artists from Egypt, Ukraine and North America in a newly created and choreographed performance.
After Egypt, Carmen was performed to standing room only audiences in Kiev, Ukraine for four consecutive nights. Ambassadors from Canada, the United States, Brazil and Spain were in attendance as well as other officials and patrons of the arts who expressed interest in the newly created dance company.
Shvydkyy, who looks more like a bodyguard then a master of movement, has opened a new artistic window for audiences. His powerful new art form relies heavily on dramatic, innovative movements and particular attention to expressive interpretation of music. Shvydkyy is "tired of traditional performances" and completely opposed to "slavish imitation and repetition". He brings audiences to tears in his death scene in 'Carmen Dance on Blood' and has them holding their breath by strapping knives to the arms of his 'Carmens'. Shvydkyy uses classically trained professional ballerinas, trains them in expressive movement and acting, and then choreographs a spectacular event.
In addition to performing on stage, Shvydkyy has also acted in films such as 'Good by Cairo' directed by I. Ciszkewisz, Kiev and 'The Divine Woman' directed by A. Sadia Shekoo, Cairo (2005). His move to Canada in 1999 gave him an opportunity to perform with the Canadian Ballet Youth Ensemble in 'The Nutcracker', teach at 'Expressions Creative Dance' (Hamilton, Ontario), conduct workshops and from 1999 to 2005, coach a professional skating team - Skate Canada - in movement and expressive acting. In addition to Carmen, he plans to debut "Salome" in the near future before North America audiences.
Sergiy Shvydkyy, was born in Kiev, Ukraine and received his B.A. in Choreography and Arts at the O.E. Kornijchuk State University of Culture and Choreography (Kiev). He subsequently became a professor of choreography at the State University and then worked as a dancer with the Virsky Dance Company in Kiev. Shvydkyy began his professional career as a dancer but soon combined his love of performing with his talents in choreography. His twenty year career includes performing worldwide - Ukraine, Russia, England, Scotland, Austria, Egypt, United States and Canada. In addition to "Carmen", he has chreographed and performed in "Isadora Duncan," "Venus in Furs," "Jonathan Livingston Seagull," "Oedipus Rex," "Salome" and "Othello." He is now a Canadian citizen and making North America home for his "Art Quick Dance Company."
MZI Global Marketing is promoting Maestro Sergiy Shvydkyy as part of their heritage and cultural marketing programs in affiliation with the Slavic Heritage Coalition Slavic Heritage Coalition.
###