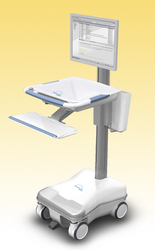 Working with an Integrated Network such as TriHealth has led to a long lasting partnership for both organizations. TriHealth counts on Enovate to find the best possible solutions, while incorporating proper ergonomics and functionality that meet all clinical needs
Troy, MI (PRWEB) October 9, 2007
TriHealth, a nationally recognized integrated healthcare organization in Cincinnati, Ohio, announces the deployment of more than 125 wall mounted articulating arms and over 125 T5 point-of-care carts from the medical technology provider EnovateIT.
The T5 Point-of-Care Technology Cart teams mobile computing ease and comfort with a high-performance power system. "Mobility is the key enabling technology in healthcare these days," says Rick Moore, Vice President and CIO of Information Systems for TriHealth. "The T5 mobile workstations and the articulating arms have brought a new level of mobility and ease of use to our busy clinicians."
The first truly ergonomic solution of its kind, the T5 was developed based on extensive research and interviews with regular users of point-of-care carts. The T5 has been proven to excel where similar cart solutions fall short, with improvements that include greater comfort for a wide range of users, maximum mobility in confined spaces, and longer-lasting power. Weighing just 70 pounds, the T5 is the lightest cart on the market and offers one of the smallest footprints available to ensure maximum mobility in tight corridors, around hospital beds, and other small spaces.
The combination of articulating wall arms with a hospital's EMR (Electronic Medical Record) ensures that the input of data is accurate, complete, and accessible when and where it is needed. EnovateIT's articulating wall arms in the TriHealth hospitals have increased the entry of positive patient identification. As a result, the EMRs are being used more effectively and efficiently in the healthcare environment.
"Working with an Integrated Network such as TriHealth has led to a long lasting partnership for both organizations. TriHealth counts on Enovate to find the best possible solutions, while incorporating proper ergonomics and functionality that meet all clinical needs," says Zac Sgro, EnovateIT's Midwest Regional Sales Manager. "Our goal is to ultimately help TriHealth concentrate solely on administering the highest level of patient care." For more than 2 years EnovateIT has developed a solid relationship with TriHealth by acting as a consultant for medical technologies & computer hardware. The CIO of TriHealth states, "The products and level of service from EnovateIT have been superior."
About TriHealth Center of Lincoln:
TriHealth combines the strengths of two of Greater Cincinnati's finest health care organizations, Bethesda and Good Samaritan. Formed in 1995, our partnership created an integrated health delivery system whose mission is to improve the health of the people we serve, with an emphasis on prevention, wellness and education. We are dedicated to delivering the best care possible. Visit TriHealth at http://www.trihealth.com
*2007 Verispan Top100 Most Highly Integrated Healthcare Networks (IHN)
About EnovateIT, LLC:
Headquartered in Troy, Michigan, EnovateIT is a leading provider of mobile wireless solutions for healthcare. With more than 40,000 device installations in over 1,100 healthcare facilities, EnovateIT provides cost effective solutions for medication delivery systems, as well as computerized physician order entry, clinical documentation, and electronic medical records systems. EnovateIT not only offers products that facilitate wireless point-of-care information solutions, but also the services and support to make it a reality. Visit EnovateIT at http://www.enovateit.com or call 248-655-0548.
###