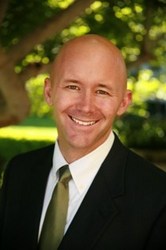 This type of information is very useful
Santa Barbara, CA (PRWEB) October 12, 2007
An efficient training method is being deployed by environmental consultant and energy-efficiency expert Eric Woodroof, Ph.D. of Profitable Green Solutions. Dr. Woodroof, who has helped government and Fortune 500 clients save millions in energy-efficiency and sustainability projects, is using environmentally-friendly "interactive webinars" to help more companies implement carbon reduction strategies. Woodroof's courses focus on infrastructure projects to help turn "green dreams" into real profits. Students discover over 200 practical strategies to help their businesses and also get the chance to develop innovative environmental management plans that can dramatically increase sales and profits.
Woodroof has published over 25 publications and books on topics ranging from engineering to finance, but all are geared toward helping businesses profitably reduce carbon emissions, operational expenses and pollution. He is a 3rd generation trainer with real, practical solutions to the global challenges highlighted in Al Gore's film: An Inconvenient Truth. The carbon reduction courses are in demand because they show businesses how to profitably reduce their carbon footprint with acceptable CO2 levels and even increase sales. "This type of information is very useful"- IBM - Global Business Services Market Intelligence.
Who is listening? Woodroof's company: ProfitableGreenSolutions has the highest rating from the Better Business Bureau and he has worked with IBM, Hertz, Ford, General Motors, the US Government and other organizations. With zero BBB complaints and a 300% Guarantee, it is easy to understand why the webinars and live events are gaining in popularity as global warming is now recognized as the primary threat against humanity.
To learn more about how your organization can become more "green" economically and environmentally, visit Profitable Green Solutions and join the newsletter for updates and trends in pollution prevention and profits. Eric's next live training event is in Tulsa, Oklahoma October 19th 2007. Visit Profitable Green Solutions for more information.
###