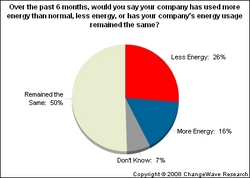 Solar's rapid expansion on the corporate energy efficiency front is good news for companies in the solar food chain
Rockville, MD (PRWEB) April 16, 2008
There is a huge shift taking place in the way corporate America is using and thinking about energy, according to the latest survey findings from ChangeWave.
The March survey of 1,400 individuals knowledgeable about their company's energy spending, shows more than one-in-five (22%) say their company is Very Concerned about reducing its corporate energy usage and 35% say they are Somewhat Concerned.
The high level of unease over energy usage is helping bring about a transformational shift in U.S. corporate energy consumption - with an astonishing one-in-four respondents (26%) reporting their company has used Less energy than normal over the past six months.
By comparison, only 16% say they've used More energy.
In a related finding, nearly a quarter of respondents (23%) report their company's spending on energy efficiency products and technologies will Increase over the next six months; three-times the percentage that see a Decrease (8%).
"The perfect storm of rising energy costs and concern over global climate disruption is forcing companies to rethink the most basic ways they use energy," said ChangeWave analyst Joshua Levine. "A tremendous shift in corporate perception is occurring and it's going to impact virtually all industries and create investment opportunities in the process."
(Detailed charts on Corporate Energy Trends, along with additional ChangeWave findings can be downloaded at changewave.com/efficiency).
The Race Toward Corporate Efficiency: Solar Leads The Charge
Overall, corporate use of "off-the-grid" energy technologies is gaining momentum, with 8% of respondents saying they now use alternative sources to generate power. Going forward, more than one-in-five (21%) say they'll install and make use of alternative energy sources within the next five years.
To get a sense of just how this shift towards greater energy efficiency will be achieved, the survey asked respondents which technologies and products their company is actually using.
Solar power came in far ahead of all other alternative energy options, both in terms of current corporate usage (51%) and future planned users (72%). Wind Power was relegated to a distant second for current (24%) and future users (19%).
"Solar's rapid expansion on the corporate energy efficiency front is good news for companies in the solar food chain," said Levine. "Polysilicon producers, solar cell manufacturers and solar installation firms are all likely beneficiaries of the trend toward the sun."
According to Levine, the companies best positioned to ride this solar energy wave are the major photovoltaics manufacturers like First Solar (FSLR), SunPower Corp. (SPWR) and Suntech Power Holdings (STP) -- each of which are leading the solar industry ever closer to the key metric of alternative energy economics: grid price parity.
LED Lighting Has Momentum
Along with solar power, the survey shows LED lighting is now a prime spending area in the world of corporate energy efficiency.
Overall, lighting was the top product companies said they'll be purchasing over the next six months to improve energy efficiency. And while Compact and Regular Florescent lighting had the greatest market share over the previous six months, the survey shows LED lighting (21%; up 7-pts) to be the clear momentum leader going forward.
The biggest obstacle to the wider adoption of LED lighting technology is cost, according to survey respondents. But despite pricing issues, the survey shows that LED lighting is rapidly being adopted by U.S. companies.
"Major lighting companies like Philips Electronics (PHG) and General Electric (GE) -- two top LED manufacturers and distributors -- are clearly beneficiaries here," says Levine, who adds, "But it is the smaller, pure-play LED lighting firms like Cree Inc. (CREE) that are set to be the biggest winners in this market."
To sign-up for real-time email alerts from ChangeWave on emerging technology trends and companies, visit changewave.com/hotwire.
About ChangeWave:
ChangeWave runs a proprietary network of more than 15,000 highly qualified business, technology, and medical professionals in leading companies of select industries - credentialed experts who spend their everyday lives working on the frontline of technological change. ChangeWave surveys its members on a range of business and investment research topics, collects feedback from them electronically, and converts the information into quantitative and qualitative reports. For more information, visit changewave.com/blog.
###