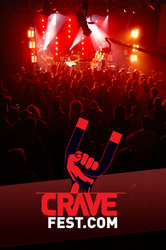 CraveFest benefits artists with international genre-focused music video exposure and provides fans with a unique, valuable music discovery medium.
Toronto, ON (PRWEB) August 28, 2008
The 2008 CraveFest Music Video Awards Festival came to an exciting conclusion as the 2008 award winners took center stage along with special guest presenters illScarlett, Darrin Pfeiffer, and entertaining musical performances by Semi Precious Weapons, Webster Death, The Flatliners, Amos The Transparent, and Hexes and Ohs. An elite panel of video, entertainment, and music industry experts judged the nominated music videos for 2008 shortly after the final public vote was cast on the cravefest.com website. Awards were presented live at the 2008 CraveFest Music Video Awards at Toronto hot-spot, Tattoo Rock Parlour.
Notable award winners included The New Pornographers' 'Myriad Harbour' for Best Animated Music Video, K-OS for Best Signed Rap/Hip-Hop/R&B Music Video with 'Sunday Morning', and Hexes and Ohs' 'H-H-Highschool' which garnered a total of three wins. Cravefest.com, the international music video and new media website, features music videos submitted by artists from all over the world as well as CraveFest produced music-entertainment video content.
"CraveFest provides an international exposure platform for indie artists and big-name music talent, offering a high quality music video experience," says Gautam Pinto, chief technology strategist at CraveFest, "The CraveFest online experience gives music fans a great visual channel to discover new content."
CraveTV, the entertainment and new media brand of CraveFest, showcases compelling video content for the new-generation of online video consumer, including artist and celebrity interviews, behind-the-scenes on set music video coverage, remote acoustic performances, and comedic segments.
Tim Sandik, CraveFest production director concludes, "CraveFest benefits artists with international genre-focused music video exposure and provides fans with a unique, valuable music discovery medium."
The judging panel for CraveFest 2008 included Edge 102.1's Alan Cross, Program Director/Host of 'The Ongoing History of New Music', Film & Music Video Director Ulysses Terrero, Head of International Recordings/A&R, Ministry of Sound's Scott Simons, Director of Marketing HMV Canada Inc. Saundra Bianchi, and Executive Producer of SPY Entertainment, Richard Cureton.
Fifteen awards and over $10,000 in prizes have been distributed to both well-known and up-and-coming artists. See the website for a complete listing of the 2008 CraveFest music video award winners in each category.
CraveFest is an International Music Video Festival dedicated to providing artists and fans with a new channel for exposure and discovery. Artists are invited to submit their videos to cravefest.com, while fans are encouraged to watch, rate and vote for their favourites. The top voted videos are reviewed by a panel of industry judges who determine the final music video award winners. Visit the website to learn more about CraveFest.
CraveFest is made possible by the support of dedicated festival sponsors including: HMV, Maxell, KICKER, Heineken, Rockstar, JL Audio, Gem-Sen, The Delta Chelsea Hotel and Ink.
CraveFest has video content and distribution affiliations with DJlinks.com, Ultimate Indie TV, BPM TV, The Toronto Independent Music Awards and Vuze.
For media enquiries please contact:
CraveFest Public Relations
Tel: 905-660-3110
Fax: 905-660-3108
###