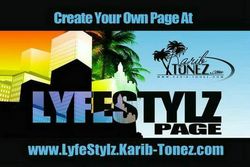 LyfeStylz is wide open for all underground artists and models who want to reach a fan base that is looking for their unique style. The members at LyfeStylz, honor artists who break out of the box and are not afraid to express their own unique style
Lauderhill, FL (PRWEB) January 1, 2008
Giving the wrong impression with one of those mass produced, boring as a doorbell cell phone ringtones? Having difficulty finding a cell phone ringtone that expresses unique personality? Well if the creators of LyfeStylz (http://www.lyfestylz.karib-tonez.com) a newly launched Caribbean music community have their way, cell phones will be buzzing with not only some of the hottest Caribbean beats available but new and original ringtones created by some of the freshest talent on the Caribbean and Hip Hop scene. This trailblazing online community from Karib-ToneZ.com offers members an unprecedented opportunity to sell their own original ringtones & wallpapers through the UrStylz Tonez service. Every time a member's ringtone or wallpaper is sold, the member who created it receives up to .40 cents in royalty payments. Member created ringtones are not only promoted through blogs, articles and profiles but are distributed to over 130 countries and 300 cell phone providers such as Sprint, Verizon, T-mobile, O2, Vodafone, and Virgin Mobile. The ringtones can also be sold from anywhere, including the member's personal website, blog or Myspace page on the internet.
"LyfeStylz is a new online community powered by Onesite and created for those passionate about all Caribbean music including Dancehall, Reggaeton, Kompa, Soca and Hip Hop. The site has a friendly interface similar to MySpace, allowing members to blog, view and post pictures and videos and connect with others in the Caribbean community who enjoy the same type of lifestyle," says Jean-Marc Simeon, CEO of DueceOne Enterprises, parent company of Karib-ToneZ.com.
Jean-Marc says that the LyfeStylz community and UrStylz service is a great opportunity for individuals and artists to promote their work and connect to a fan base that is not being reached by the mainstream media.
"LyfeStylz is wide open for all underground artists and models who want to reach a fan base that is looking for their unique style. The members at LyfeStylz, honor artists who break out of the box and are not afraid to express their own unique style," Simeon added.
One LyfeSylz member and artist that has chosen to break the rules and mix the beats of Reggae and Hip Hop is Chinese Assassin Djs whose unique music is encapsulated in his catchy Reggae/Hip-Hop ringtones. Chinese Assassin Djs regularly sells thousands of his mix tapes worldwide and aims to duplicate this success with his Urstylz Tonez.
"Chinese Assassin is a perfect example of someone who with a unique music spin is taking advantage of our ringtone service," Simeon said.
LyfeStylz (http://www.lyfestylz.karib-tonez.com) is a free community & the online networking hub for party promotions of Caribbean and HipHop entertainment brought to by Karib-ToneZ.com which currently offers nearly 100 new Caribbean ringtones and Caribbean themed wallpaper graphics. Stay connected to the music that drives your Lyfestylz with Karib-ToneZ.com.
# # #