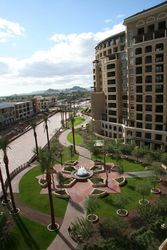 We also visit buildings under construction. Last month we toured The Mark in Scottsdale and next month we're visiting 44 Monroe High Rise Condos downtown. Don't worry, we provide the hardhats
Phoenix, AZ (PRWEB) January 2, 2008
Will Daly, real estate agent and owner of WeKnowUrban.com has specialized in the sale and marketing of Phoenix condos, particularly high rise and loft condos, for eleven years. And while he has enjoyed a successful career, it wasn't until things slowed down that his business really took off.
"I'm the first to admit that the Phoenix condo market is slow. Heck, that's why we got creative and launched our High Rise and Loft Condo Tour," says Daly.
"We decided to do something that no one else was doing with Phoenix condos. We began bus tours and invited everyone; real estate agents, students, developers, city planners, interior decorators and most importantly prospective high rise or loft condo buyers."
The WeKnowUrban High Rise and Loft Condo tours are conducted via bus and target a different part of town or product niche each month. One month might feature infill loft condo projects along the Phoenix Central Corridor while the next month features the high rise condos developments in downtown Phoenix.
"The tours are cheap; five dollars for the public and 10 for agents or those people represented by an agent.
"Last month over 40 people joined us in touring high rise and loft condos in downtown Scottsdale," Daly said. "And this is in a market that is reportedly dead."
The WeKnowUrban High Rise and Loft Condo tours are held the second Saturday of each month and run from 10:00 a.m. to approximately 1:30 p.m.
Upon boarding, attendees receive a detailed "Tour Book" of the high rise condos and/or lofts to be visited along with pertienent information like sales prices, costs per foot, condo amenities and history of the development.
"We literally get off the bus and tour fantastic buildings like Summit at Copper Square, 2211 High Rise Condos, Biltmore Loft Condos, Safari Drive, Stadium Loft Condos, X Wine Lofts and more.
"We also visit buildings under construction. Last month we toured The Mark in Scottsdale and next month we're visiting 44 Monroe High Rise Condos downtown. Don't worry, we provide the hardhats," Daly laughs.
For more information or to register for the next High Rise and Loft Condo Tour simply visit the WeKnowUrban.com web site and click on the "Urban Tour" button.
# # #