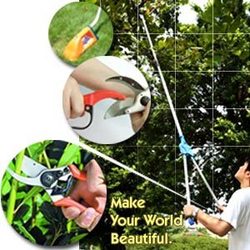 We regard ourself as innovation oriented company, making convenient, safe and easy to operate products for customers is our high priority concern
(PRWEB) January 9, 2008
Taiwan outstanding garden tool manufacturer, Jiin Haur, has been known for constant products innovation. In particular, its New Designed Telescopic Lopping Shear is well received in Europe this year. With the design of lightweight extendable telescopic arm and soft TRP grip, this long reach pruner is easily operated by both hands, which is more effortless and convenient. Jiin Haur not only serves in Europe and America market, but expands its business in Japan.
Established in 1977, Jiin Haur is an expert in OEM and ODM horticultural tools manufacturing, it has received patents in Germany, U.S.A, China, Japan and Taiwan. With GS, TUV, CE, VPA certifications, Jiin Haur highly recommended products include long-reach pruners, pruning shears, grass shears, tool racks, drop-forged pruners, battery-powered motor-operated shears.
Excellent Quality Control
After achieving ISO9001 certification, Jiin Haur brings great effort to improve and upgrade factory equipments every year, its automatic punching machine and advanced CNC working machines are well equipped for high volume manufacturing, as well as quality inspection apparatus ensure strong durability of products. Especially, its Auto Shearing Testing Machine, Micro Hardness Tester and Spring Testing System effectively guarantee the best stability and resistance.
According to a firm connection with upstream supply chain partners, Jiin Haur makes good promise for material control, all high carbon steel is imported from Japan and more reliable local suppliers sufficiently provide varied spare parts.
In addition to increase work efficiency and on-time delivery, Jiin Haur computer-controlled warehouse storage system integrates all the components supply and stock information. It enables Jiin Haur to obtain the up-to-date production requirement and responses promptly to market demand.
Strong R&D Team
"We regard ourself as innovation oriented company, making convenient, safe and easy to operate products for customers is our high priority concern," Jiin Haur Sales Representative Grace Wu emphasized.
Running in thirty years, Jiin Haur always keep active attitude toward the enhancement of development capacity. In order to make products superior in design and function, Jiin Haur pays serious attention from Computer Aided Design (CAD) drawing, material selection, prototype making, quality inspection, to test marketing. Comparing to other competitors, Jiin Haur is able to introduce six new products every year. Its strong R&D team also accept OEM customized design requirement.
Great Value Products
Jiin Haur's Professional Drop Forged Pruning Shear Series has been best-selling tool, made by high carbon steel, the shears blade with fine cutting edge could be replaced easily. Its lightweight forged aluminum construction with rubber-shock absorber and cushion is great for wrist protection and perfect handhold. Moreover, toothed center-nut functions as cutting adjustment.
The Battery Power Motor Operated Shear is also a high-value product. In terms of user-friendly design and equipped wheels, this motor shear provides enjoyable work for lawn mowing swiftly.
In addition, Multi-Function Sharpener Series with razor blades offers various knife sharpening such as grass hooks, weed knives, loppers and pruning knives. Its unique feature of protective arch avoids finger injuries from cutting and removable sponge for anti-rust oil wipe is also provided.
***Perspective***
After a successful presentation in International Garden & Exterior Expo Tokyo (GARDEX 2008), Jiin Haur has shown a strong ambition in oversea market development. Continuing to attending more international garden exhibitions, Jiin Haur keeps the promise of high quality, modern and easy-to-operate products with competitive price to serve worldwide clients.
Welcome to visit Jiin Haur's web site: http://www.allproducts.com/tool/jiinhaur/ | http://www.jiinhaur.com.tw
###