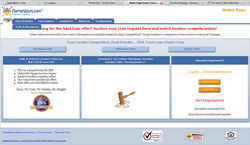 With the prevalence of deceptive, bait and switch lenders, it was high time to introduce a revolutionary concept in lending
Pasadena, CA (PRWEB) January 9, 2008
After only one month of its site launch, NameYourLoan.com, the world's first online mortgage auction site, announces tremendous success, attracting borrowers and lenders alike with options to compare mortgage rates online in a real-time auction and a multitude of quality, real-time mortgage loan leads.
Online auctioning has become today's industry standard for Internet shopping as its proven one of the best ways to get great deals online. Loans are no different, and NameYourLoan.com has taken advantage of this coincidence by establishing an online mortgage auction site, designed to help borrowers find low mortgage quotes online in addition to the best mortgage lenders.
"With the prevalence of deceptive, bait and switch lenders, it was high time to introduce a revolutionary concept in lending," says NameYourLoan.com President and CEO Al Salahi. "After only a few weeks of launching, we've attracted a large number of borrowers and lenders. The success of our business model has exceeded even the highest expectations. The concept really works, and I challenge anyone to show me a better way to shop for loans and get the best deals."
One of the reasons for NameYourLoan.com's immediate success is the ease and convenience of the sign-up process. Borrowers can utilize the service for free after completing a simple application form that submits their loan request to prospective lenders. At that point, lenders that match borrowers' specified loan preferences begin competing with one another in a real time online mortgage auction, submitting their best mortgage loan rates for a chance to win borrowers' business.
Throughout the 24-hour auction period, while multiple competitive bids are being placed, NameYourLoan.com's sophisticated computer system calculates all relative numbers to ultimately present the five lowest online mortgage quotes to the borrower. In turn, the organized presentation of best home loan rate options gives borrowers an opportunity to compare mortgage rates online in a simplified format to end up with the best home loan possible.
"Whether borrowers are searching for the lowest fixed mortgage loan rate or the best home equity loan rate, NameYourLoan.com makes it easy to get the loan they desire," explains Salahi. "Unlike typical mortgage websites, the entire process takes place online, so that borrowers don't have to deal with the haggling and frustrating phone calls often associated with the average mortgage lead generator websites. The best way to find an online mortgage lender and the best loan offer is through NameYourLoan.com's patent-pending online mortgage auction. Simply said, at NameYourLoan.com, lenders bid, you succeed."
To learn more about NameYourLoan.com's role in the lending revolution, visit NameYourLoan.com.
About NameYourLoan.com:
NameYourLoan.com is the world's first online mortgage auction, designed to advance the lending process by helping honest and competitive lenders grow their business, and at the same time, make it possible for borrowers to instantaneously reach multiple lenders and receive competitive loan offers online, in an auction format. NameYourLoan.com uses a patent-pending concept powered by sophisticated proprietary software that has been developed by a number of technology heavyweights from the Fortune 500 arena.
###