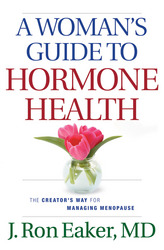 Minneapolis, MN (PRWEB) January 5, 2008
As the health changes of midlife begin, many women feel overwhelmed yet at a loss as to what to do. With over 20 years of medical practice, Dr. Eaker has helped many women weather midlife successfully and confidently. Now, in A Woman's Guide to Hormone Health, he speaks with compassion and authority as he offers options and solutions for this turbulent stage of life.
With expert advice, Dr. Eaker guides women through the up-and-down times of menopause -- and the years leading up to it. He gives women answers they can trust and apply to their lives and encourages them to actively participate in their health care.
Topics of concern such as exercise, diet, nutrition and osteoporosis are addressed as well as PMS, perimenopause and menopause.
By combining the best medical information available with biblical wisdom, Dr. Eaker enables women to handle the natural changes occurring in their lives, making this book a must-have for women from 30 to 60.
About the Author
J. Ron Eaker, MD, received his medical degree from the University of Tennessee's Center for the Health Sciences and completed his residency at the Medical College of Georgia. Practicing in ob-gyn, he has a special interest in family health and fitness. He has been listed in America's Best Doctors, is a member of numerous professional societies, and is a founding board member and vice chairman of the Institute of Religion and Health. He has appeared on numerous TV and radio shows, including Life Today with James Robison, Total Living with Jerry Rose, and Janet Parshall's America. He is the author of Fat-Proof Your Family and A Woman's Guide to Hormone Health. Ron and his wife, Susan, have two daughters and live in Augusta, Georgia. When he is not doing homework with the kids, working, speaking, sleeping or eating, Ron is running, having completed 10 marathons, including Chicago, San Francisco and four in Boston.
A Woman's Guide to Hormone Health: The Creator's Way for Managing Menopause
ISBN: 978-0-7642-0414-2
Trade Paper; $14.99; 224 pp.
Release Date: January 2008
Download the cover, excerpt, and author interview at: http://www.bethanyhouse.com/awomansguidetohormonehealth
# # #