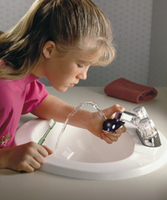 Carrollton, TX (PRWEB) January 2, 2008
Wildly popular for years, the Jokari Whale Faucet Fountain has received a makeover. The new character design is rounder, softer, and cuter and is sure to appeal to a new generation of youngsters as the whale design of the past did. With the help of the loveable whale character children turn brushing their teeth into a fun event complete with their own personal water fountain streaming from the adorable whale's blowhole.
Safe and simple to use, faucet fountains are the best way to enjoy a drinking fountain right in your own home. Install by slipping onto any standard faucet head in the bathroom, kitchen or utility area. They eliminate the need for paper cups, reduce the need to use and wash drinking glasses and they make brushing teeth fun for kids.
Adults need not miss the excitement of having a personal water fountain at home; a chrome faucet is also available from Jokari.
Founded in 1974, Jokari/US, Inc is the leader in creating innovative products for the home and beyond. The company offers a wide range of patented products designed to simplify everyday tasks, create storage solutions and extend the life of common household products such as; carbonated beverages, wine, and more.
For more information, press only:
(Stephanie Smith), (972-478-4908)
For more information on Jokari Products:
http://www.Jokari.com
Jokari is a registered trademark of Jokari.US, Inc - All Rights Reserved
###