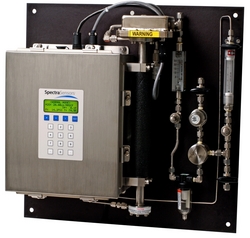 Sample Conditioning Natural Gas for On-line Analysis of Moisture.
Houston, TX (PRWEB) January 1, 2008
SpectraSensors, Inc. (Houston, TX) will exhibit products and be a key presenter at the Natural Gas Sampling Technology (NGSTech) Conference in New Orleans beginning January 16, 2008.
Charlie Cook, SpectraSensors Director of Sales-Natural Gas and longtime veteran of the natural gas analyzer industry, will present a paper entitled "Sample Conditioning Natural Gas for On-line Analysis of Moisture."
The paper, which will discuss sample conditioning for H2O, CO2 and H2S measurements in natural gas, will explain how in-custody transfer and analysis of natural is today being viewed with increased scrutiny. This presentation is intended to identify best practices for better sampling for gas analyzers taking into consideration various conditions and installations.
Included among the exhibited technologies will be TDL-based (tunable laser diode) gas analyzers, which SpectraSensors developed and are the emerging standard of natural gas producers, processors and transmission pipeline operators.
According to NGSTech, there is a consensus within the natural gas industry that sample conditioning is the single largest source of error in the overall process of analytical measurement. The organization says that until the NGSTech Conference, only a faction of industry forums was devoted to this critical topic. The 2008 NGSTech will be the second such conference, and will include experts in standards and advanced practices that address the need for new information.
For more information, visit http://www.spectrasensors.com or link to http://www.ngstechconference.com.
About SpectraSensors:
SpectraSensors is a leading manufacturer of optically-based gas analyzers and moisture analyzers for analytical process markets. SpectraSensors uses Tunable Diode Lasers Absorption Spectroscopy (TDLAS) in an array of products such as Ambient Air Monitoring Analyzers, Moisture Analyzers and Gas Analyzers for Natural Gas Pipelines and Processors, Petrochemical Refineries and Chemical Companies. SpectraSensors Gas Analyzers measure Moisture (H2O), Carbon Dioxide (CO2), Hydrogen Sulfide (H2S), Methane (CH4), Sulfur Dioxide (SO2), Ammonia (NH3) Ethylene Oxide (ETO) and more.
For more information contact Sam Miller, (800) 619-2861 x228; SpectraSensors, Inc., 11027 Arrow Rte., Rancho Cucamonga, CA 91730-4866.
###