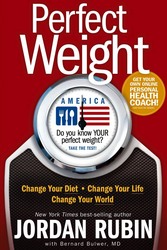 I've seen that it's possible to take weight off people's frames as well as the planet
West Palm Beach, FL (Vocus) January 1, 2008
Why should dieters limit themselves to the same New Year's resolution every year to lose weight when there are so many other ways to improve? "Perfect Weight America ," the latest title from New York Times best-selling author and health expert Jordan Rubin, hits bookstores nationwide January 2 and delivers more than a proven weight loss program to drop pounds. Unlike the standard fare of diet books, "Perfect Weight America" challenges readers to "Change Your Diet, Change Your Life, and Change Your World."
"I've seen that it's possible to take weight off people's frames as well as the planet," explains Rubin. "It's about personal and global sustainability. The program covers everything from eating local and organic to simple steps to living 'green' and reducing your carbon footprint to save the environment."
Backed by science and studies, "Perfect Weight America" features an online personal health coach to educate readers about how to achieve their perfect weight. A main premise of the book is that everyone has a perfect weight and there are definite steps a dieter can take to eat, live, and think to look and feel their best.
Shedding pounds is the first step and Rubin repeatedly hears the cheers from successful Perfect Weight America dieters. He tested the program with 126 participants in 2007 in Toledo, a city deemed one of the unhealthiest in the nation. Toledo participants followed an individualized 12-week plan with four phases that included diet, supplementation, exercise, cleansing, detoxification, and stress management. The results of the pilot study were noteworthy: a collective weight loss of 1700 pounds, with an average weight loss of 13.5 pounds per person in 11 weeks.
The personal success stories of the Toledo participants are woven throughout the book. Melissa Gertz* was one of several participants who said they had tried many weight loss programs over the years and failed until they were introduced to Rubin's plan.
"Since losing 65 pounds, I have new-found energy," says Gertz, who plummeted from a size 24 to a size 10 in five months and can fit into her wedding dress again. "Because of Perfect Weight America, I am now training for a triathlon."
Rubin emphasizes that Perfect Weight America is designed to provide the body with maximum nutrients for healthy and safe weight loss. "Many programs work quickly up front, but then weight loss will plateau. With this program, we have a secret weapon to bust plateaus and promote sustained weight loss. That's why we see a lot of people finish strong in the last weeks of the program."
Like Gertz, millions of Americans struggling with fad diets know that weight loss is not as straightforward as the cliché 'eat less and exercise more,' which prompted Rubin to include "Change Your Life" as an integral part of the program.
"We see a lot of things when we reach outside the diet box," says Rubin. "There are deep-rooted reasons why some people fail with diets. It can be something as simple as harboring unforgiveness, guilt, and shame – all toxic emotions that hinder people from reaching their goals."
Some highlights of "Perfect Weight America" include:

Experience renewed energy
Cleanse harmful toxins from the body
Avoid foods that cause hunger and make wise choices to stay full
Learn ways to protect the environment for future generations
Learn which nutritional supplements are integral to weight loss
Discover a supplement proven to target belly fat – based on scientific studies
Learn how to cheat without sabotaging your diet
Learn strategies to burn fat, improve your digestion, and boost your immune system
Learn functional interval training – an efficient way to strengthen core muscles in 20 minutes a day
Rubin, the best-selling author of "The Maker's Diet," knows that losing pounds boosts self confidence and motivates people to make additional improvements in their lives. In "Perfect Weight America," his holistic approach is a roadmap for anyone looking to attain physical, mental, emotional, and spiritual well being.
For more information, or for interviews with Jordan Rubin, contact:
Rhonda Price, rprice @ gardenoflife.com, 561-371-9407
Susan Fonger, sfonger @ gardenoflife.com, 561-386-2801
http://www.tour.perfectweightamerica.com/Home/tabid/790/Default.aspx
http://www.jordanrubin.com
http://www.perfectweightamerica.com
*Melissa Gertz's story is an extraordinary experience. Individual results will vary.
"Perfect Weight America"
Siloam
ISBN 978-1-599-79-257-6
# # #