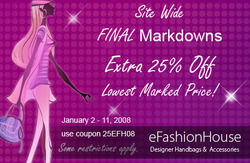 Some Designers have already increased their 2008 collections as high as 20% higher than the 2007 prices
Sky Valley, CA (PRWEB) January 2, 2008
eFashionHouse.com named Best of the Web by People StyleWatch for below retail priced designer handbags and recognized by About.com as the top of three online retailers of off-priced Chanel announced today a year-end clearance with lowered prices throughout the site and an extra 25% off savings on designer handbags and accessories.
There's nothing fake about this New Year Celebration, and there's nothing fake about the designer fashion accessories sold by eFashionHouse. eFashionHouse made a conscious decision to lower all their prices site wide to celebrate the new year, and to give fashionistas world wide a heads up about the increased prices to expect in 2008 for the same designer brand products.
In 2005, the average price of a high-end designer purse was about $2000. In 2007, the average price hit about $3000. In 2008, expect prices throughout all major Department Stores and ecommerce sites to increase again. "Some Designers have already increased their 2008 collections as high as 20% higher than the 2007 prices," said Anna Miller, eFashionHouse Owner. The increased prices for designer fashion accessories trend is not expected to change or fade-away in the near future.
Unlike other ecommerce sites, eFashionHouse has systems in place for global shipping, offers free shipping to USA deliveries of $200 or more and never charges sales tax. Online since the mid-90's, eFashionHouse has offered its shoppers deep discounts on names like Gucci, Fendi, Hermes, Chanel, Prada, Etro, Marc Jacobs, Tods, Burberry, Tano, Furla, Yves Saint Laurent, Versace, Moschino, Dolce & Gabbana, Pietro Alessandro, and many more high-end designer brands. eFashionHouse is the home of five fashion stores with an variety of items at all price points. The site was recently recognized by About.com for being the top of three online retailers with below-retail Chanel merchandise -- both, new and vintage. The eFashionHouse New Year Celebration requires coupon discount code 25EFH08 to be used at checkout. The coupon discount code is valid January 2, 2008 and expires January 11, at which time all items will return to their everyday prices of 25% - 60% off retail.
About eFashionHouse.com
Anna Miller is the President of i-GlobalMall.com, Inc. She operates the website http://www.efashionhouse.com and sells high-end authentic designer handbags and accessories at off-retail prices. eFashionHouse.com was named Best of the Web by People Magazine StyleWatch for Discount Designer Handbags and Purses. eFashionHouse.com should not be confused with any other website selling a similar product or using a similar name. EfashionHouse.com is the home of five fashion ecommerce stores: BrandsBoutique, LuxuryVintage, DesignersLA, ItalysOutlet, and ValueBags. Anna is considered an Internet Pioneer & Ecommerce Entrepreneur. She's been reselling Designer Merchandise online since the early 90s. eFashionHouse.com has an extensive Press Page and a Fashion Blog Network. Visit the site for more details.
###