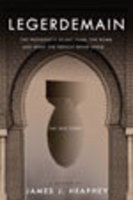 This is a man's book that women will love.
Palisades, NY (PRWEB) January 3, 2008
After fifty years of secrecy, the Washington archives were opened yielding files shedding light on a previously unknown American nuclear strategy and tactical maneuver that put on high risk, the American relationship with France. Such a file has been brought to light by James Heaphey, a professor emeritus from the State University of New York, who was a pivotal player in such an intrigue in the early 1950's.
"Legerdemain" by James Heaphey with a subtitle "The President's Secret Plan, the Bomb and What The French Never" Knew draws attention to a secret plan launched by President Harry Truman to whisk French Morocco out of the French colonial system and into the American sphere of influence, without the French being made aware of the plot. This,in order to safeguard air bases critical to American retaliatory strategy against Moscow and the Soviet Union. Heaphey, a skilled author, presents the experience in a creative non-fiction style that brings the reader into a story of high adventure complete with historical figures such as Anwar Sadat of Egypt, Archbishop Makarios of Cyprus, exotic women of strong character and nefarious men of considerably less character. A true account of a recently declassified experience, "Legerdemain," is a sharp look at how things are done in the sometimes shadowy world of foreign relations. It is also a look at how national priorities are determined.
Dr. Herbert Werlin a World Bank researcher, writer and editor, said about Legerdemain "It is the kind of history that you will only find in the deepest part of the archives in Washington, D.C. Anyone interested in knowing how things really work in this world, must read Legerdemain."
And another comment came from an unexpected quarter. In his historical experience James Heaphey encountered some strong female personalities. When proofreader Jennifer Johanson turned the last page on Lergerdemain she said "This is a man's book that women will love."
James Heaphey, professor emeritus, State University of New York, was also a member of the Agency for International Development, a consultant to the Government of Cyprus, a Consultant to the American Embassy in Cairo, Egypt and an author of three academic books and numerous articles. He was also a lecturer to American military officers on organizational matters. He has been a columnist for the Newport News Daily Press on matters of organizational behavior, his area of expertise on which he taught and has been published. He resides in Williamsburg, VA.
Legerdemain: The President's Secret Plan, The Bomb and What The French Never Knew
History Publishing Company, LLC (HC-9781933909356) and (SC-9781933909363) will be in bookstores January 15, 2008
http://www.historypublishingco.com
###