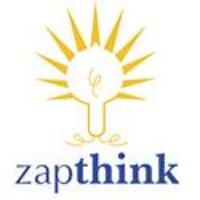 Companies are tired of all the hype surrounding Web Services and SOA, and are finding it difficult to learn what they really need to know from vendor-centric conferences and training
Baltimore, MD (PRWEB) January 3, 2008
ZapThink announces today the full agenda for its upcoming Practical Service-Oriented Architecture (SOA) conference in Frankfurt, Germany on January 15, 2008. The Practical SOA event series is targeted at companies and individuals looking for usable business case studies and value propositions for SOA, those who want to learn the latest best practices for making SOA a success, those looking to hear from successful architects about their SOA efforts, want to learn from peers about what it takes to put together a successful SOA, and/or want to take their SOA efforts to the next level.
"Companies are tired of all the hype surrounding Web Services and SOA, and are finding it difficult to learn what they really need to know from vendor-centric conferences and training," said Ronald Schmelzer, Managing Partner with ZapThink, LLC. "Practical SOA events give Enterprise Architecture practitioners, consulting firms, and vendors, the best practices and practical implementation knowledge they are seeking."
Presenters at the upcoming Practical SOA event on January 15, 2008 at the Courtyard Frankfurt Messe in Frankfurt, Germany include:

Florian Moesch, Vice President Enterprise Integration & Architecture, T-Mobile Deutschland GmbH
Ingo Arnold, Enterprise Systems Architect, Novartis Pharma AG
Xavier Weibel, Technical Strategist, Swisscom
Dr. Waldemar Lohrer, Senior Berater, Swiss Life
Wolfgang Otto, Principal Systems Engineer, BEA
John Michelsen, Founder & Chief Architect, iTKO
Ron Schmelzer, Senior Analyst, ZapThink, LLC
Avrami Tzur, VP of SOA, Hewlett-Packard
Lars Drexler, VP Sales Enablement, Software AG
Sponsors include BEA (NASDAQ:BEAS), Hewlett Packard (NYSE:HPQ), Software AG (Frankfurt TecDAX: SOW), and Interactive TKO, Inc. (iTKO).
At our upcoming Practical SOA event in Frankfurt, Germany on January 15, 2008, attendees will learn:
What are current, worldwide SOA adoption trends?
How is SOA impacting the business bottom line?
How will IT be able to respond to today's business challenges through SOA?
What is a practical SOA roadmap that works today?
For more information and to register for this Practical SOA event, visit ZapThink Practical SOA Event Registration. Early bird discounts are available for a limited time. Seats are limited and ZapThink expects certain the event to sell out.
About ZapThink, LLC:
Founded in October 2000, ZapThink, LLC (ZapThink) is an Enterprise Architecture (EA), Service-Oriented Architecture (SOA), and Enterprise Web 2.0 (EW2.0) strategic advisory, analysis, and influence firm. As a recognized authority and master SOA and EA, ZapThink provides its audience of IT practitioners, consultants, and technology vendors with practical advice, guidance, education, and mentorship solutions that assist companies in leveraging SOA to meet their business needs and presenting viable SOA solutions to the market, as well as provides this audience a clear roadmap for standards-based, loosely coupled distributed computing - a vision of IT meeting the needs of the agile business. ZapThink is headquartered in Baltimore, Maryland. Its customers include Global 1000 firms and emerging businesses.
ZapThink contact:
Ronald Schmelzer
ZapThink, LLC
108 Woodlawn Rd
Baltimore, MD 21210
Phone: +1 (781) 207-0203
###