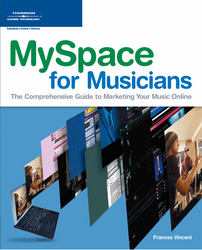 No matter how computer illiterate you think you are, you can and should promote yourself on social networks like MySpace.
Detroit, MI (PRWEB) January 3, 2008
Search for your favorite Top 40 bands and their MySpace page will pop up near the top of the results. It seems every musician has a MySpace page - a bite-sized, sometimes kitschy, artist snapshot and virtual demo combined. Industry insiders say it's an integral marketing tool to reach music hungry fans today. But how do indie and unsigned artists market themselves on MySpace, build a fan base, and cut through the noise created by more than 2 million other artists on the site?
Author and music industry consultant Fran Vincent shows MySpace newbies how it's done in her new book, "MySpace for Musicians: The Comprehensive Guide to Promoting Your Music Online," published by Thomson Course Technology.
"Having a regular Web site is not enough anymore. Every major record label is promoting artists on MySpace, and they expect that indie and unsigned artists will do the same. In fact, A&R reps, music publishers and supervisors are actively combing through profiles looking for the next big thing," says Detroit-based Vincent, who is herself a musician and writes for national music magazines like Electronic Musician and InTune Magazine. "No matter how computer illiterate you think you are, you can and should promote yourself on social networks like MySpace."
In "MySpace for Musicians," available from Amazon.com, and at Barnes and Noble and other booksellers nationwide, Vincent shows even the least 'Net-savvy artist how to market their music on the Web. At more than 350 pages, the guide teaches musicians how to design a MySpace page optimized for music promotion and distribution; how to best use MySpace to effectively market music; what the site has to offer; what attracts a record label; an online marketing resource directory; basic code for "pimping" your profile; how to write a bio; the ins and outs of e-mail marketing; how to identify your target market; and even what to do to protect against stalkers and nosy co-workers.
"This book is really targeted toward bands and artists who are unfamiliar with using MySpace and online marketing, as well as those who already have accounts but may not know how to make the best use of it," said Vincent, who has previously done marketing and PR for Warner Bros. Publications, a division of Warner Music Group, and now works with music clients around the world through her company Retro Island Productions, Inc.
Some "seasoned" artists are under the impression that MySpace is only for teenagers and the college set. However, the facts don't bear out that myth. While lots of teens and campus kids are on the service, they account for just 30 percent of MySpace users. Adults ages 25+ account for almost 70 percent of MySpacers, with middle-aged users representing the largest slice of the pie, according to a 2006 comScore Media Metrix report. That same demographic also spends the most on music purchases.
"Right now, being on MySpace is a must, but it is work and there are no guarantees," says Vincent, who is not affiliated with MySpace or its parent companies. "There are more than 200 million MySpace users. That's a pretty impressive, built-in audience. You have to go where the fans are. My goal with MySpace for Musicians is to help every artist do just that."
For more information on MySpace for Musicians, please visit the MySpace for Musicians Web site. Press queries and requests for interviews, or product to review should be directed to author Fran Vincent at 786-301-1137, via the accompanying e-mail link, or through the Retro Island Productions MySpace Profile.
About Fran Vincent:
Industry consultant Fran Vincent founded Retro Island Productions, a public relations, marketing communications, and music services consulting company in 2005, following her departure from Warner Bros. Publications. She works with clients around the world including Midisoft Corporation, pop artist Nicci Nix, the University of Miami among others, and has written for several national music magazines. Vincent holds a BA in journalism from Oakland University in Michigan, and a Master of Music in music business and entertainment industries from the University of Miami in Florida. She is also a former adjunct professor for the University of Miami's lauded Music Business and Entertainment Industries program, and continues to lecture on music industry topics throughout Detroit.
###