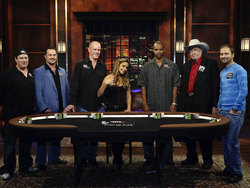 Las Vegas, NV (PRWEB) January 4, 2008
This week's match on NBC's Poker After Dark is sure to capture the attention of poker fans everywhere, but maybe even more so to those who also enjoy a day on the links whether they are a scratch golfer or a perennial hacker. For anyone who has ever imbibed in a few of their favorite beverages with friends at their local 19th hole after a round of golf, they'll see a lot of similarities between the camaraderie that exists among their golfing buddies and how this match plays out. The banter at the table is largely golf-oriented, and the stories the players relate are amusing and entertaining.
In a quest for this week's $120,000 first place winner-take-all prize, two newcomers will make their debut on PAD in the persons of David Oppenheim and Gavin Smith. David has been playing professionally for about 15 years, and is known as one of the best limit high-stakes cash game players in the world. Gavin, a self-proclaimed "wild card" at the tables due to his aggressive nature, is anything but quiet when he plays and will undoubtedly provide some interesting table talk.
These two will swap stories and butt heads with four pros that have also been known to engage in a friendly wager or two on the golf course in fan favorites Doyle Brunson, Phil Ivey, Daniel Negreanu and Erick Lindgren. Ivey has won two PAD titles, and will be looking to become the first player to win three. Brunson and Negreanu have each won one, and Lindgren will be looking for his first in three tries.
Brief profiles of all six players follow. The match will begin airing on NBC late night Monday at 2:05 a.m., January 7, and will continue for five consecutive nights in the same time slot. A special program called the "Director's Cut" will air late night Saturday, January 12, at 1:00 a.m., right after Saturday Night Live. This show will feature Poker After Dark's new host, Marianela, with a behind-the-scenes look at the week including highlights and insightful player interviews.
Each of the match's six segments can also be viewed daily at http://www.nbcsports.com/poker. Be sure to check out the new player profile section, which now includes the players from all of PAD's three seasons, as well as their past performance records on PAD and NBC's National Heads-Up Poker Championship. These profiles are updated on a weekly basis. A detailed profile of Marianela can be found there also. Additional information on the players is also available at http://www.pokerafterdark.com.
There are a myriad of personalities represented at this table, along with some conduct that may raise the eyebrows of more than one watching, but it all contributes to making this match one that should have viewers riveted to their seats. The heads-up clash for the title is a beauty, lasting until the wee morning hours, and is one that viewers definitely won't want to miss.
Smith, Gavin: (Seat 1)

Holder of 1 WPT title, and was the WPT's Player of the Year for season IV
Career tournament winnings in excess of $3.76 million, and ranks 46th on the all-time money list
Oppenheim, David: (Seat 2)
Recently teamed up with Phil Ivey for ESPN's Inaugural High Stakes Entertainment Golf Tour, an event that they won good for $1 million
Primarily a cash game player, he has career tournament winnings in excess of $496,000
Lindgren, Erick: (Seat 3)
Very successful player in WPT events, winning their Player of the Year award for season II, and ranks 15th on their all-time money list,
Lifetime tournament winnings in excess of $5.80 million, and ranks 23rd on the all-time money list
Ivey, Phil: (Seat 4)
Thought of by many as the best player in the game today, and the winner of five WSOP bracelets
Career tournament winnings in excess of $8.00 million, and ranks 9th on the all-time money list
Brunson, Doyle: (Seat 5)
Back-to-back World Series of Poker Champion in 1976 and 1977, and the owner of 10 WSOP bracelets, tied for 2nd with Johnny Chan behind Phil Hellmuth who has 11
Lifetime tournament winnings in excess of $5.27 million, and ranks 29th on the all-time money list
Negreanu, Daniel: (Seat 6)
One of poker's most likeable personalities, and owns three WSOP bracelets along with two WPT titles
Lifetime tournament winnings in excess of $9.88 million, and ranks 3rd on the all-time money list, 1st on the WPT all-time money list
This press release was written by Dennis Oehring, who is associated with the firm POKER-PROductions. Statistical information courtesy of The Hendon Mob database. Photo courtesy of NBC's Paul Drinkwater.
# # #