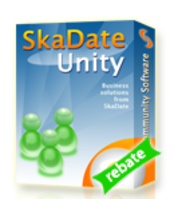 The beginning of a new year is always an important period
South Bend, IN (PRWEB) January 4, 2008
Skalfa eCommerce, dating and community software Development Company is pleased to announce the launch of our first ever January discount campaign "Community StartUp Package". With great discounts on all Skalfa community products more people will have an opportunity to start their own full-featured community website with up-to-date widgets like video chat, messenger, face photo crop option and many others.
"Community StartUp Package" special offer includes all necessary community widgets for successful startup with a discount: SkaDate Unity software, ChuPPo applications (3 months FREE) and FaceJuggle (3 months FREE).
"The beginning of a new year is always an important period," says Emil Sarnogoev, Skalfa eCommerce CEO, "This is the first time we have offered our products at a special price. Since our start up we have concentrated on quality and value received, delivering quality to every single customer. For the New Year we are all about helping out new businesses. With Community Startup Package from Skalfa you save a cool $600."
SkaDate Unity is professional PHP/MySQL community software package for online social networking businesses, offering a large number of interactive and "have fun" features. Being always focused on customer satisfaction, Skalfa eCommerce provided the SkaDate Unity with the most fashionable user features and an easy-to-use admin panel.
ChuPPo, another community product included in the "Community StartUp Package", is a set of new age voice/video applications for community sites. ChuPPo offers a quality Webcam Videochat, Videomessenger, and Videorecorder software, which are easily integrated and completely functional with SkaDate Unity as well as any other community software.
FaceJuggle is a simple web-service that allows your users to crop any user photo to a nice headshot of a given size. The core of the service is an algorithm that finds and crops a face image out of a large picture. It helps to provide users with high quality profile thumbnail pictures.
All Skalfa eCommerce community products mentioned above are now offered in one "Community StartUp Package" at a highly reduced price. This offer is only available during January, 2008.
###