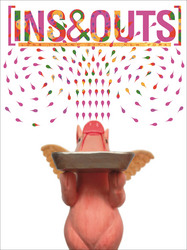 Long Island City, NY (PRWEB) January 4, 2008
Ins&Outs Magazine, a publication founded in 2004 and dedicated to exploring the cultural development of LIC and similarly up-and-coming communities around New York City. Following the success of the tenth edition -- released in November 2007 in commemoration of the magazine's third anniversary -- I&O launches the new year with the opening of their second volume with a new look.
Featuring a wealth of bleeding-edge content, the magazine surveys new works and individuals culled from across the arts, reports on noteworthy aspects of community and business growth, and continues to provide a unique and ardent voice for the expression of local culture. The announcement of LIC's Person of the Year and a glimpse of the action from I&O's recent Issue 10 Release and Holiday Party are of particular interest among stand-out articles like interviews with painter/actor/musician/educator Julian Rozzell and real estate mogul Gary Diana, a walking exploration of Old Astoria guided by the Greater Astoria Historical Society, an analysis of the Museum of the Moving Image's online curatorship and current exhibition The Living Room Candidate, and our largest-ever collection of reviews, travel writing, local interests and original art and literature.
Water -- at once life's most crucial element and the world's most increasingly scarce resource -- is the theme of this issue, invoking visual and thematic motifs from spring and rebirth to seasonal rains and floral growth. One signature article takes a behind-the-scenes look at the exhibition Water, H2O=Life, currently on display at the American Museum of Natural History, while others explore the Staten Island Ship Graveyard, contemplate a cephalopod future, and consider the unique geographical and psychological relationships between New Yorkers and their surrounding bodies of water. At the section's centerpiece will be a ten-page fashion spread exploring the abstract and symbolic contents of the magazine, presenting the hottest new spring wear in an exotic, original location.
You can pick up your free copy of Ins&Outs at any New Icon parking lot and other fine establishments throughout New York City.
###