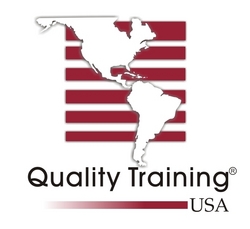 Miami, FL (PRWEB) January 7, 2008
Professionals looking to improve on business skills necessary for succeeding in today's competitive business environment now have a new opportunity with Quality Training USA. Whether English or Spanish is your primary language, Quality Training USA provides effective corporate training solutions for a wide range of disciplines and professions.
QTCUSA is offering a wide variety of business training workshops in Miami to help companies gain an edge in business for 2008. As the major provider of seminars, conferences and congresses in a bilingual format, QTCUSA is offering four courses in Spanish and two in English for January.
Workshops in English: How to Successfully Manage Purchasing and Supply, and Proven Techniques for Collecting Accounts Receivables.
Workshops in Spanish: Habilidades de Vanguardia para la Asistente Extraordinaria, Cómo Convertir Gerentes en Líderes, Cómo Administrar y Optimizar sus Almacenes e Inventarios, y Cómo Manejar Exitosamente Sucursales.
Time and Location:
All six training workshops will take place January 31 through February 1 with the exception of Habilidades de Vanguardia para la Asistente Extraordinaria, which is a one day course.
Each workshop takes place from 9 a.m. to 4 p.m. on both January 31 and February 1 at The Doral Golf Resort and Spa, 4400 NW 87th Avenue Miami, Florida 33178 USA
QTCUSA offers training seminars, conferences and congresses sought after by companies such as Coca Cola, Motorola, HP, BMW, Halliburton, Sony and many more. Using proven course formats and renowned instructors, QTCUSA organizes business training "seminars that make a difference," helping companies and individuals to grow in today's corporate environment.
They are the premier provider of effective corporate training courses in Spanish and English allowing businesses unprecedented flexibility.
To Register or Request more Information:
Contact Juan Rivera, Project Manager
1.800.580.5693
http://www.QualityTrainingUSA.com
###