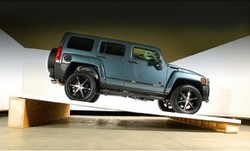 Patio Enclosures, Inc. has been working diligently to provide customers with an ever-expanding variety of products that are Energy Star® rated and provide exceptional energy efficiency for our sunrooms
Macedonia, OH (Vocus) January 4, 2008
Patio Enclosures, Inc. the largest manufacturer and installer of sunrooms in the US, has become the first sunroom company to offer Energy Star® rated Sunroom Roof System panels, standard on all of its sunroom models that incorporate solid roofs. Roofs can be a source of substantial heating/cooling loss. Patio Enclosures, Inc. Sunroom Roof System panels reduce the transfer of heat and cold from the outside to keep sunroom interiors more comfortable and to lower energy requirements.
In addition to the highest rated energy-efficiency, the Patio Enclosures, Inc. sunroom roofing systems possesses superior strength, a key safety feature in regions that experience heavy snows and high wind loads. A recent demonstration featured a 2.5-ton General Motors Hummer sport utility vehicle atop the company's standard sunroom roof panels.
"Patio Enclosures, Inc. has been working diligently to provide customers with an ever-expanding variety of products that are Energy Star® rated and provide exceptional energy efficiency for our sunrooms," stated Ken Sekley, Patio Enclosures, Inc. President and CEO.
The Sunroom Roof System panels are the latest sunroom components for which Patio Enclosures, Inc. has received an ENERGY STAR® rating. The company's Comfort-Gard® Plus glass for sunroom doors and windows, and Comfort-DeckTM insulated floor panels previously received ENERGY STAR® ratings.
"Providing technological leadership and superior products, such as the sunroom roof system panel, is why after more than 40 years we continue to be North America's largest manufacturer and installer of sunrooms, solariums and conservatories. We're extremely proud to offer these products to our customers." Sekley said.
About Patio Enclosures, Inc.:
Patio Enclosures, Inc. has been recognized for several years by Qualified Remodeler Magazine as the Top Performing Sunroom Company in North America. Patio Enclosures, Inc. operates 30 branch locations across the United States and Canada and has more than 750 employee-owners. The company also operates three casual living furniture stores in northeastern Ohio and one in Pittsburgh.
For more information:
Reginald Carter, Public Relations
Patio Enclosures, Inc.
750 East Highland Road
Macedonia, Ohio 44056
phone (330)468-0700 ext. 2278
fax (330) 908-1123
###