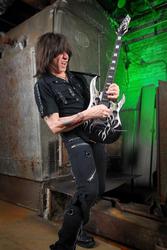 Top 100 Greatest Metal Guitarists of All Time
Mahwah, NJ (PRWEB) January 4, 2008
- 2007 has been one of the most prolific years ever for guitarist Michael Angelo Batio. MAB toured the world making personal appearances and performing over 100 times throughout 12 different countries. These performances consisted of concerts, clinics for Dean Guitars, as well as performing on behalf of the prestigious National Guitar Workshop and DayJams affiliates. MAB also continued to support his 2005 release of "HWS" or "Hands Without Shadows" throughout his 2007 tour.
MAB released 3 new DVDs ("Speed Kills 3", "MAB Jam Session", "25 Jazz Progressions") and 1 new CD ("2 X Again"). In addition, MAB made several 'guest' CD appearances including "Zen Shred Zone" by Tobias Hurwitz and "Hellborn" by the David Shankle Group (former Manowar guitarist).
T-Rex Engineering released the Michael Angelo Batio signature overdrive pedal (http://www.angelo.com/assets/images/TRexMABpedalphoto.jpg), which continues to garner enthusiastic acclaim from reviewers and users alike. The T-Rex MAB Overdrive pedal was nominated for the 2007 Readers Choice Awards in Guitar Player Magazine in the USA. The results will be published in a future issue of Guitar Player and will also be listed at guitarplayer.com.
2007 also marked the 20th anniversary release of Michael Angelo Batio's critically acclaimed Michael Angelo Star Licks Master Series® video. This best-selling video was the first "shred" instructional video, demonstrating concepts such as "sweep" arpeggios, advanced alternate-picking, the applications of "Economy of Motion" and "PPS" ("potential picking speed"). Prominent guitarists such as John Petrucci (Dream Theater), "Dimebag" Darrell Abbott (Pantera, Damageplan) and Michael Romeo (Symphony X) have credited Michael since using this groundbreaking instructional program. Over 100,000 videos have been sold worldwide. This highly sought-after video was Star Licks' #1 bestseller for 2 years straight.
Moving forward into 2008, Michael Angelo will be appearing and signing on behalf of Dean Guitars at NAMM's (International Music Products Association's) 2008 convention in Anaheim, CA, January 18-21, Hall B booth #5466. Michael will be promoting and demonstrating his new signature guitar, the Dean MAB-1 AF Armorflame http://www.angelo.com/assets/images/Armorflame2007reducedsize3.jpg. Details regarding the MAB-1 AF will be forthcoming. Fans of Michael Angelo Batio and Dean Guitars can view the 2008 Dean Guitars "Live from NAMM" webcast beginning on January 18 at 12 p.m. CST at http://www.deanguitars.com.
As previously announced, MAB will appear in the upcoming Dakota Films release of the Randy Rhoads documentary directed by Peter Margolis which is slated for a 2008 release. He will also be appearing in the upcoming film "Cracking the Code: The Secrets of Shred Guitar" produced by Troy Grady. According to Troy, "Cracking the Code (is) a documentary of shred technique and not simply a compendium of performance footage. Nor is it a collection of licks demonstrated by masters. It is a unique mechanical investigation that uses slow-motion video to answer the question of how shred technique actually works." Cracking the Code will also feature many notable "shred" guitarists including Steve Morse, Frank Gambale, Albert Lee, Tommy Emmanuel, Joe Stump and footage of Yngwie Malmsteen and Paul Gilbert.
MAB continues to be a contributing writer for Guitar World Magazine offering guitar playing advice and technique via his "Time To Burn" section, also available on DVD.
Fans can look forward to a new Michael Angelo Batio "Double-Guitar" solo in the new year.
Michael would like to take this opportunity to personally thank all of his fans worldwide for making 2007 the best year ever for him and M.A.C.E. Music as well as for their continued support.
Michael's 2008 touring schedule and updates are available exclusively at http://www.angelo.com.
Michael Angelo Batio's music, DVD's, and merchandise is available directly at http://shop-angelo.com/
About Michael Angelo Batio
Michael invented and was the world's first player of the twin-necked, left and right-handed Double-Guitar. He plays the guitar right or left-handed. He also plays both guitars together in harmonies or two separate parts together at the same time. Michael invented the "MAB String Dampeners" that he uses on the Double-Guitar. Michael has a patent on the MAB String Dampeners. Michael invented his signature stage move called the "MAB Over-Under" technique. Michael started his own record label, "M.A.C.E. Music" in 1993 and was one of the first music companies to go online in 1996. M.A.C.E Music is now an established, successful company. Guitar One Magazine voted Michael the "No. 1 Shredder of ALL TIME" in their April, 2003 issue. The November, 2003 issue of FHM Magazine named Michael Angelo Batio and his 'Quad' guitar http://www.angelo.com/html/the_quad_guitar.html one of the "Top 50 most outrageous moments in rock history". The January, 2004 issue of Guitar World Magazine named Michael Angelo Batio's "Speed Kills" DVD one of the "75 Essential Guitar DVD's". The March, 2004 issue of Guitar World Magazine named Michael Angelo Batio one of the "Top 100 Greatest Metal Guitarists of All Time".
Michael started playing piano and composing at age 5 and started playing guitar at age 10. Michael has had two major label record deals with both Atlantic Records with the band 'Holland' and Rhino/Warner Brothers Records with the band 'Nitro'. Michael started as a session guitarist when he was 19 years old. He has recorded TV, radio and industrial film music for: Burger King, Pizza Hut, Taco Bell, KFC, United Airlines, United Way, McDonalds, Beatrice Corp., and the Chicago Wolves hockey team among others. At 14 MAB was playing Jazz and by 15 won the Chicago-based "All-State Jazz Solo Award" for outstanding Jazz soloist on guitar.
Michael Angelo Batio is from Chicago and has a B.A. in Music Theory and Composition from Northeastern Illinois University.
Michael Angelo Batio uses Dean guitars exclusively, T-Rex pedals, and Dunlop picks.
Hands Without Shadows ® is a registered trademark of Michael Angelo Batio and M.A.C.E. Music
HWS is a trademark of Michael Angelo Batio and M.A.C.E. Music
Contact: Drew Christoffel
Drew@angelo.com
M.A.C.E. Music: 262-942-1193
# # #