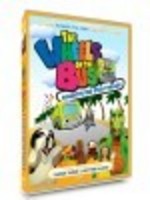 Los Angeles, CA (PRWEB) January 8, 2008
Mango, Papaya, Coco and all their friends are back for a brand new musical adventure aboard the jolly yellow bus in "The Wheels on the Bus: Mango's Big Dog Parade," the latest title in the award-winning children's series unleashing onto DVD Jan. 22, 2008. Also available Jan. 22, will be "The Wheels on the Bus: The Music," a music CD that comprises songs from all three Wheels on the Bus DVDs.
The Wheels on the Bus series, produced by Our Happy Child Productions and distributed by PorchLight Home Entertainment, teaches early socialization skills for children. Delightfully combining vivid computer animation, live-action and a cast of adorable children and puppets, each DVD focuses on themes that teach children basic skills of cooperation, good behavior and manners that will last a lifetime.
"The Wheels on the Bus: Mango's Big Dog Parade DVD has already won the 2007 iParenting Media Greatest Product Award, the 2007 Creative Child Magazine Seal of Excellence and the 2007 National Parenting Center Seal of Approval.
Roger Daltrey of The Who voices Argon, the dragon bus driver, who chimes in on the many variations of the classic kid's favorite "The Wheels on the Bus." Colorful passengers sing along as Argon takes his friends on their many jovial adventures with toe-tapping original songs by composer Laura Hall (ABC's Whose Line is it Anyway?) and lyricist Timothy Armstrong.
Dr. Dorothy Singer, co-director of Yale University Family Television Research and Consultation Center, consulted on The Wheels on the Bus' content and helped developed the Parent's Guide, which is included in each DVD.
In the 33-minute "The Wheels on the Bus: Mango's Big Dog Parade" DVD, Argon helps Coco, Mango the Monkey and Papaya the Toucan learn the importance of sharing, taking turns and getting along. They also learn The Fairies' Golden Rule -- if you are nice to others, then they will be nice to you. On their trip they visit the Jungle Bug Adventure, where they see many different and unusual insects, and stop at a garage to give the bus a peppy, song-filled tune-up.
Soon they encounter Woof, a loveable dog who has procrastinated (much to the chagrin of his mother) and missed his ride to the Big Dog Parade and Canine Festival, Santa Barbara's annual fundraising event benefiting the Big Dog Foundation, which raises money for worthy charities that help dogs, children and dogs that help people. The gang gives Woof a ride but soon takes a wrong turn and ends up lost. Fortunately, a group of friendly fairies gets them back on track and they make it to the Festival just in time to join in the parade, giving everyone a doggone good day to remember and a charming and entertaining adventure for children to enjoy over and over!
Besides the Parent's Guide, the DVD includes a Behind the Scenes Video, a lyric sheet, and the charming movie short "Behave Bernard."
The first two titles in The Wheels on the Bus series "Mango's Animal Adventure" and "Mango Helps the Moon Mouse" received many awards including: Parents' Choice Silver Honor, KIDS FIRST! Al.l-Star Endorsement, Dr. Toy's Best Vacation Products 2005, iParenting Media HOT Award, National Parenting Center Seal of Approval 2006, Approved by the Dove Foundation, Parenting Magazine DVD Pick 2005, and Creative Child Preferred Choice Award 2005 & 2006.
Distributed by PorchLight Home Entertainment, Wheels on the Bus DVDs are available for a suggested retail price of $14.98 each and are recommended for ages 2-4. The separate music CD retails for $9.98. A special gift box with all three titles, plus a bonus CD of selected songs retails for $29.98. To order, email info@thewheelsonthebus.com or call 1-805-404-2919. Visit http://www.thewheelsonthebus.com.
For more information about the Big Dog Foundation and the Big Dog Parade and Canine Festival, visit http://www.bigdogs.com.
About Our Happy Child Productions
Our Happy Child Productions is an independent production company, formed between award-winning producers Timothy Armstrong and Randall Frederick and executive producers, Frank & Tiffany Foster, and Robert Renshaw, to create a series of lively musical stories for children that also offer valuable lessons in socialization, friendship, cooperation, sharing and other life skills. While many companies focus on products to create little geniuses, Our Happy Child Productions cares about developing "great kids" who are polite, well mannered and fun!
# # #