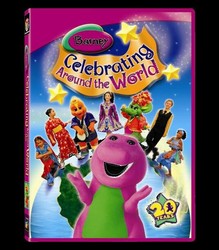 Los Angeles, CA (PRWEB) January 15, 2008
Everyone's favorite purple dinosaur continues his dino-mite 20th year anniversary with all-new direct-to-DVD special Celebrating Around the World. In this DVD, young explorers take a super-dee-duper adventure with Barney, BJ™, Baby Bop™ and Riff™ to Brazil, Kenya, India, Japan and Ireland where they learn about different cultures, including traditional music and dance, and explore ways people celebrate around the world.
Available Jan. 29, 2008 from Twentieth Century Fox Home Entertainment and HIT Entertainment, the DVD release coincides with the second leg of Barney's 20 City Purple Bus Tour, which includes visits to Children's Miracle Network Hospitals, appearances at Toys 'R' Us stores and the launch of new toys from Play Along, a division of JAKKS Pacific.
Celebrating Around the World Fast Facts:

Street date: January 29, 2008
DVD SRP: $14.98/ $15.98 Canada
DVD R/T: 60 minutes
Celebrating Around the World Synopsis:
All abroad! Join Barney and his friends as they take a magical train ride on Barney's Imagination Unlimited and, through music and dance explore the different types of celebrations around the world. Ben and Tracy can't agree on what kind of party to have so they join Barney, BJ, Baby Bop and Riff for a whirl-wind trip to see celebrations in five countries. In Rio de Janeiro they learn the samba and make music shakers and drums out of everyday objects to celebrate Carnivale. Follow along with the toe-taping dancers doing "The Reel," an Irish step dance, which encourages kids to try new things like new dances and emphasizes taking turns.
Then hop aboard to celebrate the Cherry Blossom Festival in Japan filled with games, music, food and colorful kites. Learn about different names in the delightful "What's Your Name?" song and the importance of friendship. Say "sonoraya" and travel to Kenya in Africa for the big music festival. Feel the beat of the drums and sing and clap along with Cousin Riff who plays a drum called "juma," and joins the travelers watching the colorful dancers. Then it's off to India for "Diwali," the Festival of Lights where native Indian children explain the meaning of the festival, which chases away the darkness. Everyone joins in for a rousing rendition of "If You Are Happy and You Know It," and celebrates with food, music, dancing and fireworks!
Back at the party, Ben and Tracy agree that even though celebrations are different all over the world the most important thing we all have in common is friendship. They both decide to have a party to celebrate being friends and all join in for "Look on the Inside."
Barney 20th Birthday National Purple Bus Tour:
To coincide with the latest DVD release, Barney will continue his 20-city Big Purple Bus Tour, sponsored by JAKKS pacific and in partnership with Toys 'R'Us and Children's Miracle Network. At each three-day stop, Barney will visit children at local Children's Miracle Network hospitals where he will perform a birthday Sing-Along, take pictures with children and donate toys and DVDs to the hospital
On the second and third day of each local stop, Barney will host a meet-and-greet birthday party at Toys 'R' Us Stores. Children will have the opportunity to present Barney with a super-dee-duper birthday card that they design and create right at the Toys 'R' Us store!
Barney's Big Purple Bus Tour Spring Leg:
New York, NY: 1/25 - 1/27
Charlotte, NC: 2/1 - 2/3
Atlanta, GA: 2/8 - 2/11
Miami, FL: 2/15 - 2/17
Orlando, FL: 2/22 - 2/24
Houston, TX: 2/29 - 3/2
Dallas, TX: 3/7-3/9
San Francisco, CA: 4/4-4/6
Seattle, WA 4/11-4/13
About HIT Entertainment
HIT Entertainment, owned by private equity investment group Apax Partners, is one of the world's leading independent children's entertainment producers and rights-owners. HIT's portfolio includes properties, such as Barney™, Bob the Builder™, Thomas & Friends™, Pingu™, Fireman Sam™, Angelina Ballerina™ and Rainbow Magic™. HIT represents Fifi and the Flowertots™ in North America and Japan and acts as a worldwide representative for The Jim Henson Company's library of classic family brands and as representative for The Wiggles® in the UK. HIT also owns the Guinness World Records™ publishing and television property. Launched in 1989, HIT's lines of business span television and video production (including studios in the US and the UK), publishing, consumer products licensing and live events. With a catalogue of more than 1,000 hours of young children's programming, HIT sells its shows to more than 240 countries worldwide, in more than 40 different languages and has operations in the UK, US, Canada, Hong Kong and Japan. In 2005, the Company joined Comcast Corporation, PBS and Sesame Workshop to launch PBS KIDS SproutSM, a 24-hour digital cable channel and VOD service for preschoolers. In 2007, HIT and Chellomedia, the European content division of Liberty Global, Inc and its subsidiary ChelloZone, announced a joint venture to launch and distribute JimJam, an international preschool TV channel (excludes the US, UK and China).
About Twentieth Century Fox Home Entertainment
A recognized global industry leader, Twentieth Century Fox Home Entertainment LLC (TCFHE) is the worldwide marketing, sales and distributioncompany for all Fox film and television programming on VHS, DVD and Blu-ray Disc (BD) as well as acquisitions and original productions. The company also releases all products around the globe for MGM Home Entertainment. Each year TCFHE introduces hundreds of new and newly enhanced products, which it services to retail outlets -- from mass merchants and warehouse clubs to specialty stores and e-commerce - throughout the world. Twentieth Century Fox Home Entertainment LLC is a subsidiary of Twentieth Century Fox Film Corporation, a News Corporation company.
###